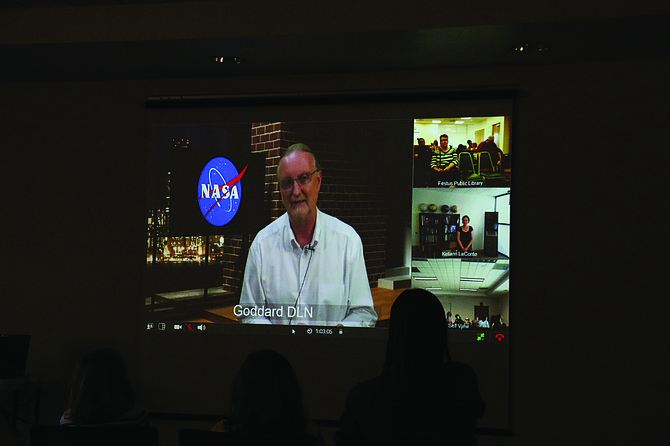 MONMOUTH — Why does a total solar eclipse happen? If the sun rises in the east, why will the West Coast see the Great American Eclipse first? How will animals be affected?
Those questions and more were answered during a Meet a Sun Scientist event on June 21 at Monmouth Library.
NASA astronomer Lou Mayo presented over livestream and answered questions about the eclipse. The presentation was part of the NASA @ My Library program. Monmouth is one of three libraries in the U.S. to take part in the program.
Mayo's presentation covered a variety of topics from eye safety to why some parts of the country will only see a partial eclipse, to what parts of the country have the best chance for a clear sky on Aug. 21. Good news for Oregonians — generally if you leave the coasts out of it, the weather situation gets better as you go (from east to) west, Mayo said.
Just how does a solar eclipse happen?
"The moon moves directly in front of the disc of the sun," Mayo said. "The moon is about 400 times smaller than the sun, but is also 400 times closer so it appears to be almost precisely the same size in the sky."
Once the question-and-answer period began, Mayo talked on a variety of subjects — including why the west will see the eclipse first, even though the sun rises in the east.
"The moon moves to the east and the earth is spinning to the east," Mayor said. "You get the west-to-east motion of the eclipse as a result."
One area NASA will be researching is how the eclipse will affect plants and animals.
"Animals will think it's night time so they may go to nest," Mayo said. "Cows will think it's time to turn around and go back to the barn. We have evidence that some plants will close up thinking it's night time. The temperature can drop by as much as 20 degrees."
Once the total eclipse hits, stars and planets will become visible. The total eclipse will last, on average, about 2 minutes and 40 seconds, Mayo said.
Perhaps Mayo's best advice? Be ready to experience something cool.
"This is a bucket-list kind of event," he said.