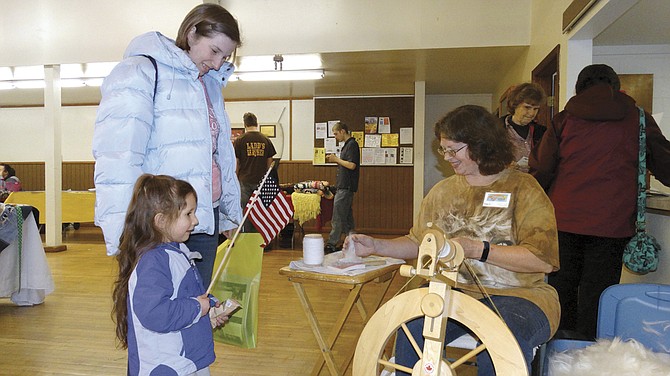 Registration for farmers' workshop
Registration is available for a workshop for farmers titled "Geese, Slugs & Voles: Biocontrol Options." The workshop will be held Thursday from 9 a.m. to 3 p.m. at Hamersly Library at Western Oregon University.
Cost is $5 without lunch or $10 with lunch.

Register online at www.polkswcd.com/biocontrol.html or email to rc1@polkswcd.com or by calling 503-623-9680, ext. 101.
Putman to discuss opportunities
Salem Interfaith Hospitality Network's TJ Putman will hold a meeting about the network, and opportunities to volunteer Thursday at 7 p.m. at Christ's Church Methodist and Presbyterian United, 412 W. Clay St., Monmouth.
Putman will provide information about SIHN, how it works with families and children, and how they help move families into permanent residents and employment or connect with resources to allow them to sustain themselves.
The meeting is open to the public.
Ash Wednesday service today
St. Thomas Episcopal Church, 1486 SW Levens St., Dallas will hold an Ash Wednesday service Wednesday (today) at 7 p.m. The church will also hold a service of Compline followed by a soup supper Wednesday evenings from March 8 to April 5 starting at 6 p.m.
Father Fred Heard will teach Episcopal 101 following the supper from 7 to 8 p.m.
Seed Exchange set for Saturday
The Marion-Polk Food Share, 1600 Salem Industrial Drive NE, Salem, will host the seventh annual Seed Exchange Saturday from 10 a.m. to noon.
The free event guarantees that all who attend will take home seeds.
Seeds will be handed out on a first-come, first-served basis. Squash seeds are particularly abundant this year, but there will be many different fruit and vegetable varieties available.
For more information: Heather McPherson, 503-581-3855.
Rickreall Grange bake sale coming
The Rickreall Grange March Madness bake sale will take place Saturday and Sunday at 9 a.m. to 4 p.m. at Rickreall Grange Hall, 280 N. Pacific Highway, Rickreall. Donations are accepted.
Model trains will be on display on Sunday.
Dessert fundraiser coming Friday
Cross and Crown Ministries will celebrate four years of service with a dessert appreciation event Friday at 6:30 p.m. at 1156 SE Holman Ave., Dallas.
The evening will include desserts, live music, raffle prizes, a silent auction and a live dessert auction.
There is no cost to attend, but RSVP is requested.
RSVP to 503-917-1625.
For more information: www.crossandcrownministries.org.
Dallas Library Friends meeting
The Friends of the Dallas Public Library will hold its annual meeting on Tuesday at 7 p.m. at the library, 950 Main St., Dallas.
The agenda includes electing officers, preparing for author visits this spring, celebrating increases in library use, and exploring volunteer skills.
The Friends will highlight 2016 activities, discuss 2017 priorities, and preview the April 7-8 book sale.
The public is invited. Joining the Friends group is possible year-round.
For more information: 503-623-2633.
Farm Bureau pesticide course
The Polk County Farm Bureau will hold a pesticide education and recertification course Thursday from 8 a.m. to noon at Polk County Fairgrounds, 520 S Pacific Highway, Rickreall.
Registration will run from 7:30 to 7:55 a.m. Classes begin at 8 a.m.
For more information: Kathy Hadley, 503-559-5901 or email to Kathfree17@ aol.com.
'Emma's Child' opens at Pentacle
"Emma's Child" will open at Pentacle Theatre Friday and runs through March 25. The play centers around a woman's attachment to a child she had hoped to adopt.
Tickets and show times at: www.pentacletheatre.org.