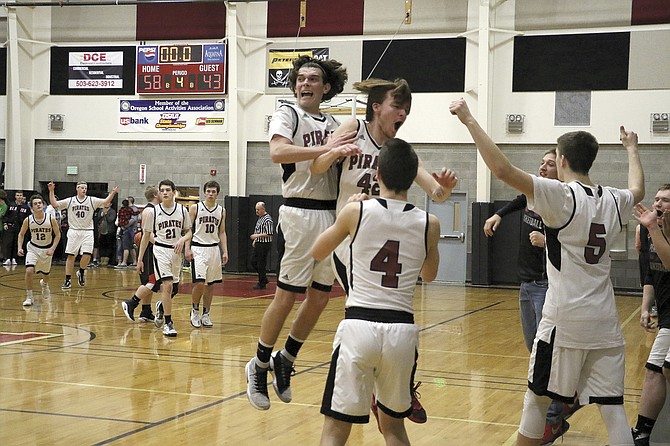 PERRYDALE — The outcome was never in doubt, but when the clock hit zero, Perrydale's boys basketball team was ready to party like it was 1983.
The Pirates defeated Powers 58-43 in the second round of the OSAA 1A state basketball playoffs to earn a spot in the state quarterfinals Wednesday (today) at Baker High School — securing Perrydale's first trip to Baker City since the 1982-83 season.
"It's been a little while," coach Brian Domes said.
The Pirates built their lead to as many as 17 in the third quarter, thanks to a balanced attack seeing key contributions from Dustin Silver, Daniel and David Domes, Haylen Janesofsky, Cooper Butler, and Jacob Pope.
"It felt really good out there," Silver said. "It was really loud and intense."
The win didn't come as easily as the score might suggest. Powers pulled to within nine points twice in the fourth quarter, and Janesofsky fouled out with about four minutes left in the game. Some shaky free-throw shooting down the stretch kept it interesting, but the Pirates never let Powers seriously threaten.
"We just needed to stay calm and play our game," Butler said. "We didn't let anything else get in our head."
When the final buzzer rang out, the celebration was on.
"Those were the longest three minutes with fouls and dead balls," Janesofsky said. "It's a relief to know (we're going to Baker)."
The Pirates enter the quarterfinals as the fifth seed and will face a familiar opponent — Crosshill Christian. The two teams have clashed three times. Perrydale has won all three matchups — most recently a 48-34 win in the Casco League tournament title game on Feb. 17.
Crosshill Christian defeated No. 4 Triangle Lake 65-58 on Friday in its first round playoff game.
Despite the success Perrydale had against Crosshill Christian, coach Brian Domes said the Pirates can't afford to look ahead.
"We've handled them three times, but they've kept it close," Brian Domes said. "They've been here before but the kids have an understanding that this is a very winnable game and we can move on and play for something pretty meaningful."
The winner advances to the semifinals on Friday against the winner of No. 9 North Douglas vs. No. 1 Sherman.
The loser advances to the consolation bracket on Thursday.
Perrydale is headed to Baker City for the first time this century, and for many of the players, it was a promise to each other finally fulfilled.
"You have no idea how much this means to us," Daniel Domes said. "… Haylen and I have dreamt about this since sixth grade. We'd tell each other, 'just wait until we're in high school.' … It's literally a dream come true."