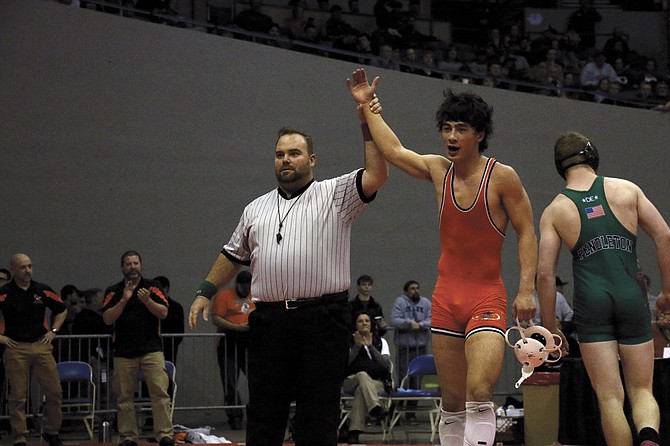 PORTLAND — Dallas senior wrestler Tanner Earhart isn't one to let his emotions show.
Even he couldn't help but let the moment get to him on Saturday.
Earhart won an individual state title in the 160-pound class at the OSAA 5A state wrestling championships on Friday and Saturday at Veterans Memorial Coliseum in Portland.
"I feel a lot of emotions right now," Earhart said after his final match. "I'm just really happy right now."
Earhart earned a 7-6 decision over Pendleton's Morgan Holcomb to win his title.
"Tanner makes us look good, that's the bottom line," coach Tony Olliff said. "... He's mild mannered. He's not boastful and is the kind of person that people like."
Not long after winning his title, he was sitting, watching his younger brother, Treve, wrestle in the 195-pound finals.
"My favorite thing about this year is that my brother gets to have this opportunity," Tanner said.
When Treve fell to Bunker Parrish of Redmond, it was Tanner who was there to console and support him.
"I remember when Tanner and Treve first got together and Tanner had already had a year in our room," Olliff said. "I remember talking to him and telling him it's OK when you wrestle each other in practice to get right up to the brink of fighting but always know that you need each other. They know that. There's no way they'd be in the state finals without each other."
Tanner and Treve helped push each other every step of the way and it paid off in a big way at state.
"It was one of the best years of wrestling with my brother because at the beginning of the year, he told me, 'let's be state champs,'" Treve said. "We pushed each other and got each other tough. The last few weeks were emotional because I knew in the back of my head this was the end of our time together in the mat room."
The Earhart family has a long, rich tradition in wrestling. Tanner and Treve's father, Jeff, won a state title in 1987 — along with Tony Olliff. Seeing his sons also connect with Tony made the moment all the more special.
"Our head coach was Tony's dad, Paul," Jeff said. "Paul was a father figure and a mentor to me so to see Tanner embrace coach Olliff after the final match was pretty emotional to me and a true blessing that my words can't express."
Seeing both his sons perform so well at state was a moment he'll never forget and made the journey well worth taking.
"I am proud of Tanner and Treve," Jeff said. "They had killer seasons that gave our family that awesome emotional roller-coaster ride that comes with the sport. The greatest blessing I think Steph and I had was seeing our kids come together with their guard down, and truly support each other for the common goal of making each other better."
Tanner was one of eight Dragon wrestlers to place at state. Treve Earhart (195) and Clay Coxen (182) finished second. Jacob Jones (126) placed third; Ryan Bibler (106) took fourth, Dawson Barcroft (113) placed fifth and Joseph English (138) and Joseph Foster (126) finished sixth.
Dallas finished second in the team standings behind Crater.
"I'm extremely proud of Treve," Olliff said. "He weighs 176 pounds and wrestled 195. It showed against the kid in the state finals, but only just a little bit. Clay (Coxen) had a fantastic season. This is nothing but gold. Every single person that we brought contributed to our team score. That trophy we got, each guy gets a little piece of it."
Olliff is also excited about the future of Dallas wrestling as the Dragons look to reload and compete for a state title for years to come.
"This team returns six state placers," Olliff said. "I don't know if that's the most we've ever returned, but it sure is a lot. The guys who will come back, this is money in the bank. They've been here, experienced and seen it."