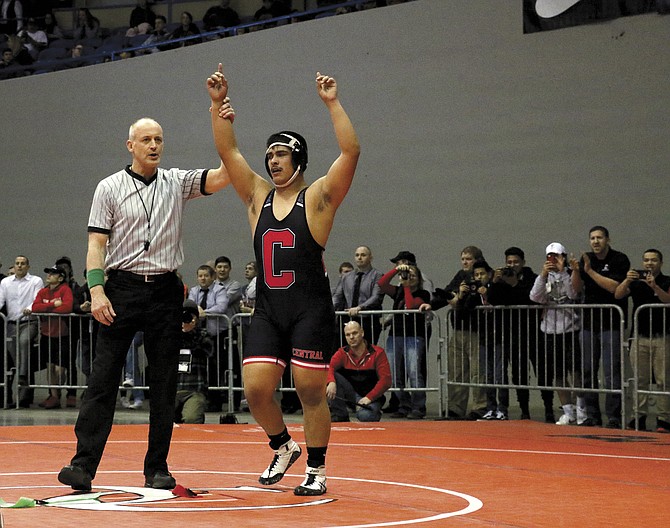 PORTLAND — Central senior wrestler David Negrete has accomplished a lot throughout his wrestling career, from winning multiple district titles to entering the 5A state wrestling championships on Friday and Saturday with a perfect record.
There was one thing he hadn't done yet — take a state title.
Negrete can officially cross that off his list.
Negrete won a state title at 220 pounds on Saturday after a 4-2 decision over Thurston's Jackson Casteel in the championship match.
"I'm very excited I placed first in state," Negrete said. "I've always wanted to do this. It's a great feeling to know I could do it and show my teammates that they can also do this by practicing and conditioning all the time."
Negrete and Casteel were tied at two in the third round and appeared headed to overtime — but Negrete wasn't going to have it, scoring in the final minute to secure the victory.
"I knew I had to do something," Negrete said. "I knew I couldn't pin him, but I knew I could score back points."
Finding ways to come out on top is something Negrete has displayed throughout his career. He finds ways to surprise those around him — even his coaches.
"He's been doing that all year long," coach Van Holstad said. "He creates stuff on the fly. He shows us stuff we've never seen before, and we've been around this sport a long time. It's exciting every time he steps on the mat, and you never know what you're going to get. We thought David was going to be able to ride him out in the third round and then get a takedown in overtime, then he pulls that out and gets back points. It's awesome. He's a great kid and one of those guys you really root for. The fact that he thinks of the program first is the kind of kid he is. He's selfless and a good kid."
Negrete was one of four state placers for the Panthers. Sam Crow (195) finished fourth. Noah Worthington (106) and Caleb Sedlacek (285) placed sixth.
Chris Polanco (160), Adam Morales (170) and Erik Vasquez (182) also competed, but did not place.
While not all wrestlers placed, Holstad said everyone gave it their all and have nothing to hang their heads about.
"David getting to the finals and winning was nice, but we struggled a little in some matches," Holstad said. "But it is state, and it's the last tournament for a reason. Our guys battled like warriors, and they made Panther nation proud. All the boys worked really hard and I'm proud of all of them. I'm proud to be associated with those guys."
As Negrete capped his high school career with a perfect finish, the senior was quick to say his victory was never just his own.
"I love my family, my teammates and my coaches. This is for them," Negrete said. "This feels great. That's all I can say."