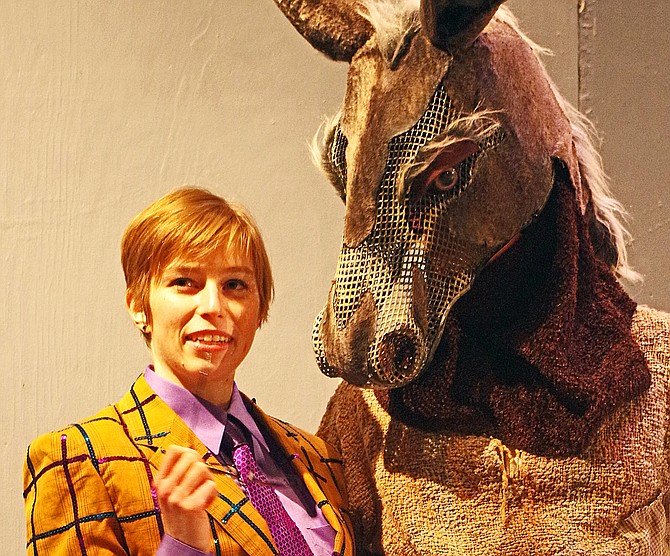 MONMOUTH — A fairy king and his mischievous servant did not intend to land in 1930's Hollywood, but when Puck messes up a spell, he and Oberon find themselves out of their magic wood and into Hollywood.
"Sometimes rights and lefts are hard," said Sarah Cotter, who plays Puck in Western Oregon University's production of "Shakespeare in Hollywood." "So when I was performing my spell, I was supposed to spin around three times to the left. I may have spun around three times to the right, and then we went the wrong direction in time."
Showtime
What: Western Oregon University presents, "Shakespeare in Hollywood."
When: Thursday through Saturday, 7 p.m.; March 9 through 11, 7 p.m. Matinee on Saturday at 2 p.m.
Where: Rice Auditorium, Western Oregon University.
Admission: $14, general; $10, faculty, staff and seniors; $8, students.
What are the two to do but direct a movie of "Midsummer Night's Dream," of course.
That's the premise behind WOU's production, opening Thursday through Saturday and March 9 through 11.
"This is basically a farce about the 1935 version of 'Midsummer Night's Dream,' that Max Reinhardt and William Dieterle directed," said director Ted de Chatelet. "This is a farce as if the real fairies Oberon and Puck land in Hollywood for a day and are filming this movie."
The play is filled with laughs, action and physical comedy, and it is clear from rehearsal that the actors are enjoying themselves as much as the audience.
"It's a great show," Cotter said. "Don't be intimidated by the Shakespeare. They poke so much fun at it that it's accessible to everyone. It's more comedy than anything else."
Cotter, who played Puck during the summer Shakespeare production of "Midsummer," said this time around the characters are quite different, both in costume and in personality.
"He's much more Hollywood, much more uppity," Cotter said. "This Puck is a flashy guy. … He loves to cause mischief."
Gabriel Elmore, who plays Oberon, king of the fairies, said he and Puck are out of their element.
"They were already pretty crazy and pretty loose in the way they do things in 'Midsummer,' but here they're taken completely out of their comfort zone of their magic wood and forced to interact with a very specific style," he said. "They're forced to come to terms with things that they, as immortal fairies, think is bizarre, which is ironic."
Both Oberon and Puck are a bit confused and baffled by the Hollywood scene, surrounded by aspiring divas and developing egos.
"It's not often that the character Oberon feels powerless," Elmore said.
Becky Bond plays Lydia, a blond chorus girl who aspires to be cast in a beautiful show.
"She's a bit of a bimbo, I guess you could say," Bond said.
Bond also has experience with "Midsummer," having been in the summer performance, and notes the differences.
"This one's crazy because it's a farce," she said. "It's so huge and elaborate. With Shakespeare, it's more about the text as opposed to your actions. This one, it's more about the comedy."
The comedy has presented a challenge for the actors — WOU theater does not often do farces.
"It's really fun as well because I'm able to do whatever I please on a whim," Bond said. "No ideas are shut down because it's just a lot of testing the water and see if things work out. If it doesn't, we'll cut it."
Elmore said one trick to pulling off the physical comedy is exaggeration.
"If you have to bend down for a joke, bend down just a little lower than you think you do, sort of take it to extremes, it's the only way we can pull it off," he said.
The lighthearted show is filled with bright costumes, characters and set pieces. It's sure to please.
"And, if you're into audience interaction, do sit in the front row," Cotter added.