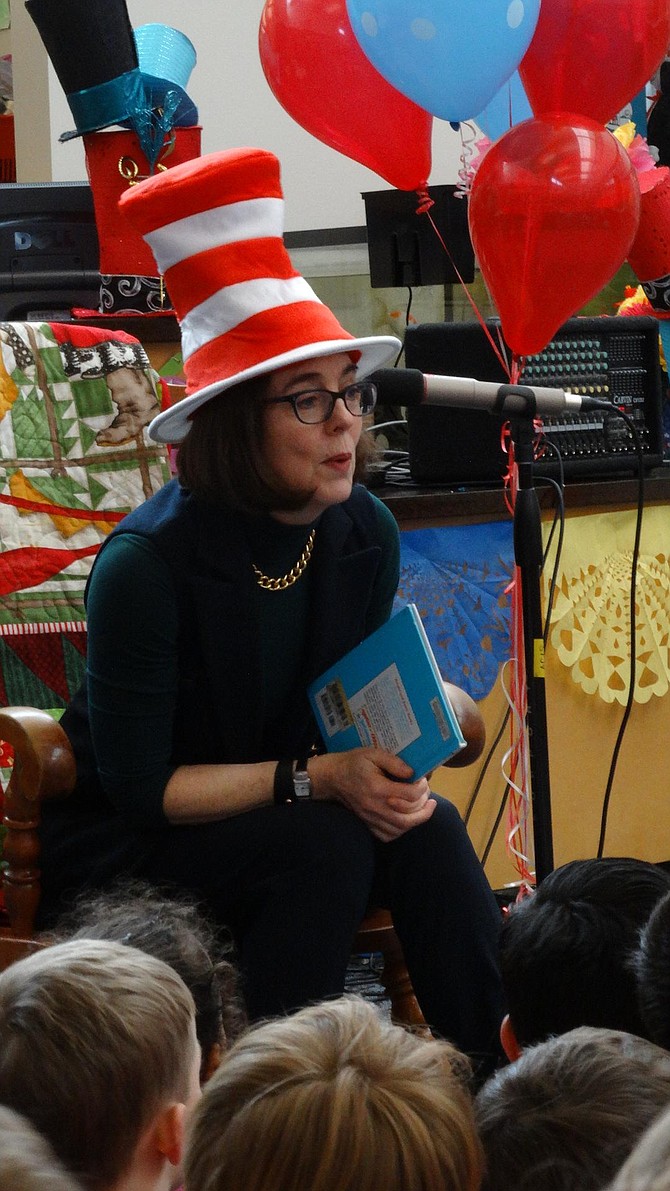 MONMOUTH – What is Gov. Kate Brown's favorite food? What kind of music does she like? Has she ever been scared? What does she do for fun?
"I like to do yoga for fun," Brown said. "I like to stand on my head, and I like to do frog pose, and I like to do downward dog."
Students laughed imagining the governor standing on her head or doing poses with animal names.
These were a handful of questions curious students at Ash Creek Elementary School had for Oregon's governor. Brown came to ACES Thursday morning to celebrate the Read Across America kickoff, which also honors Dr. Seuss' birthday.
Students also learned that Brown loves roasted vegetables, listens to Katy Perry, and was scared recently when flying in a Black Hawk helicopter in Eastern Oregon.
"The other person I was with – there was a big open window – and because he was in the gunner's seat, he leaned out the window while we were flying in the helicopter," Brown recalled. "It was very scary."
Brown was greeted by student ambassadors from each grade level before heading into a packed library to read, "A Great Day for Up," by Dr. Seuss.
"Who likes to sleep in on Saturdays?" Brown asked the engaged students. Everyone raised their hands. "Me too!"
On learning that the eagle is the ACES mascot, Brown said, "Oregon's state motto is, 'She flies with her own wings,' so I encourage each and every one of you to fly with your own wings."
ACES Principal Craig Harlow thanked Brown for visiting the school.
"The greatest gift you can give is your time and yourself," Harlow said. "And Gov. Brown is in charge of all the students in the entire state of Oregon, making sure that we have a great education and that we have clean water, and that we're safe, and we're a family in Oregon. From our heart, thank Gov. Brown for taking the time. She could have gone to any school in the state of Oregon, and she came to celebrate with us. That is an incredible gift from Gov. Brown."
Read Across America was started by a small reading task force at the National Education Association in 1997. March 2, Dr. Seuss' birthday, serves as a "pep rally" to get kids excited about reading.
The beloved children's author's birthday was chosen in part because of his efforts to increase children's literacy.
Dr. Seuss, born Theodor Seuss Geisel, got the idea for his first children's book, "And to Think That I Saw it on Mulberry Street," while on vacation in 1936. In May of 1954, Geisel's publisher learned from a study that children struggled reading because their books were boring.
The publisher extended a challenge to Geisel, giving him a list of 400 words that he felt were important for children to learn. The publisher asked Geisel to cut the words to 250 and write an entertaining children's book.
Nine months later, Geisel, using 225 of the words given to him, published "The Cat in the Hat."
He authored and illustrated 44 children's books. Geisel died on Sept. 24, 1991.
Read Across America celebrations extended beyond ACES, with Miss Oregon Lori McNeil visiting classrooms at Monmouth Elementary School. McNeil said she is traveling all over the state teaching the value of literacy skills, and this was one stop to read a Dr. Seuss book to children.
Events at Dallas, Independence and Monmouth libraries also celebrated the occasion.