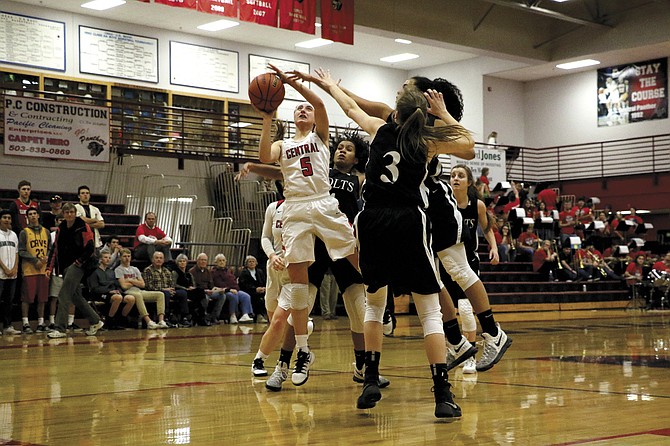 MILWAUKIE — Central's girls basketball team faced top-ranked La Salle in the first round of the state playoffs on Saturday.
The Panthers kept it close, trailing 7-6 after the first quarter, but La Salle pulled away for a 59-35 victory.
"The girls competed and hustled for 32 minutes," coach Julie McDonald said. "I think the girls learned that we need to be more aggressive taking shots and getting to the basket."
Central advanced to the first round by defeating Thurston 45-41 in the play-in round on March 1.
Freshman Meagan Mendazona was named first team all-Mid-Willamette Conference.
Elizabeth Chavez, Lexy Barba and Katelyn Trevino earned honorable mentions.
The Panthers appear set up for future success. Central will only lose one player on its varsity roster to graduation.
"We played in a lot of games that came down to last minute game situations," McDonald said. "You don't get that experience in practice. The girls learned a lot from those moments and will have a couple more years to put them to use. Any time you can play in postseason it's a great experience. Playing at a higher and faster speed is always a benefit."
Central finished the season with a 12-12 record overall and an 8-6 mark in league play.
"We've already set a few goals for next season," McDonald said. "The goals are higher than we set this year and if we work hard and as a team, I believe we can reach them."