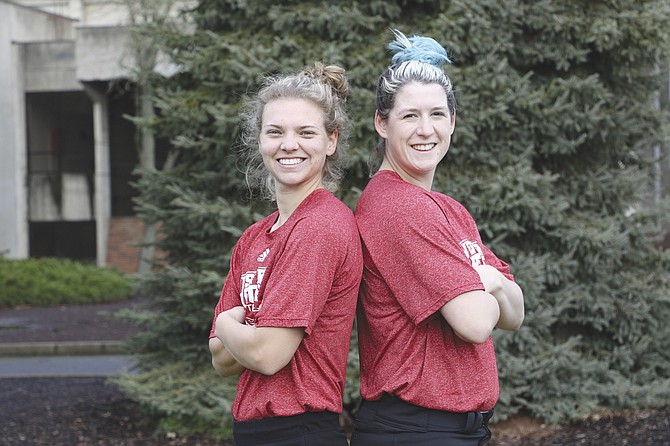 MONMOUTH — Pitcher Sammi Cadwallader is in the midst of her final season with WOU's softball team — but she's not the first in her family to take the field as a Wolf.
Her mother Kathy played softball on Western Oregon's JV team in 1988-89.
"It's really cool," Sammi said. "My mom and I have bonded over softball. My mom would catch for me when I took pitching lessons when I was younger. She was always there listening in with my pitching coaches. When I was looking at colleges, what sold me was the atmosphere and the fact that my mom had played here. I wanted to play at the same school as her."
Now Sammi hopes to end the next chapter of her family's legacy at WOU by leading the Wolves to a Great Northwest Athletic Conference title.
—
Western Oregon enters league play with confidence. WOU went 9-6 in nonconference play — one of the team's strongest starts in recent years.
"Record-wise, this is one of the best we've done (in nonleague play) in a while," coach Lonny Sargent said.
A big reason for that is a strong start by the Wolves' pitching staff. Cadwallader carries a 4-0 record with a 1.75 ERA in 28 innings of work into GNAC play.
As a staff, WOU boasts a 2.68 team ERA and has 48 strikeouts among them.
"I think I'm right where I want to be," Cadwallader said. "The pitching staff is amazing. I think we're in a good spot."
As a freshman, Cadwallader appeared in 10 of 57 games. By her junior season, she had 22 appearances, including 10 starts and led the team in ERA (2.53) and was second in strikeouts (65).
The key to her success goes beyond natural ability.
"I want to have a relationship with my catcher," Cadwallader said. "We want to be thinking the same thing when we face a batter — that we want to throw this pitch or we want to hit this location. Afterward, we'll talk about how we felt things went that inning."
That kind of trust and connection can take time to build, but it is paying off.
"I don't focus as much as the other team," Cadwallader said. "I'm just focused on us (me and my catcher). When I focus on the batter, I can get in my own head. I just make each batter like it's a practice situation and I relax myself."
But the Wolves' biggest strength so far has been its offense.

At the plate, WOU is batting .324 as a team and has outscored opponents by nearly double (100 to 56).
Kelsie Gardner leads the team in hits (25). Four different players (Destiny Kuehl, Ashlee Lynch, Emma Alfonso and Zoe Clark) have hit three home runs.
"Offensively, we're pretty strong," Sargent said. "We have some kids who can hit well and we have some new kids who are proving that they can play at this level. That's probably our greatest strength right now."
Lynch, a senior, may be ready to have her best year at WOU. She hit .310 with nine home runs in 45 games as a junior. She's batting .412 with three homers — including a grand slam — in 12 games this year.
"I just think about doing my job at the plate," Lynch said. "Maybe that's to try and get an RBI or advancing a baserunner. I'm not thinking, oh I am going to hit double or a triple or a home run."
Western Oregon opens league play by hosting Simon Fraser Saturday at noon and Western Washington Sunday at noon.
WOU was picked to finish second in the preseason coaches poll behind Central Washington.
"Our conference is going to be really good from top to bottom this year," Sargent said. "That's what we try and talk to them about all the time. It doesn't matter who you're playing. Do your job, and if the other team ends up beating you, the better team won that day. We can't take days off."
While a path to a GNAC title will be difficult, the Wolves are confident they have the pieces in place to rise above.
"We just have to get each of our jobs done," Lynch said. "Once we do that, I think we'll be fine. We have a good team this year. We're excited to start conference and excited to see what this team can do. (The seniors) are ready to go out with a bang."