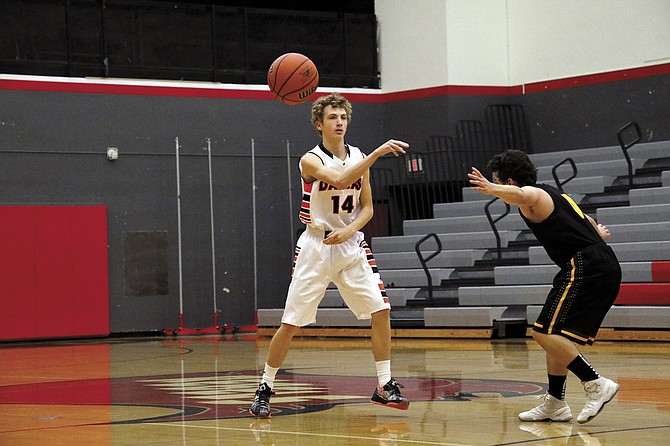 GUARD
ALEC
BARBA
Central
The senior was a critical part to Central's offense during the 2016-17 season. He led the team in points per game (13.5), shot 50 percent on two-point field goals and 41 percent from beyond the arc. Barba also led the team in 3-pointers made (67). "Alec is a great spot up shooter," Central coach Tim Kreta said. "When Alec is on the court, he makes our team offense run a lot better." Barba also made great strides on defense and was more willing to crash the boards than in years past, averaging 2.8 rebounds per game. On offense, Barba became more potent at driving to the hoop, making him a difficult offensive threat to stop. "Guards and wings have to honor him, which allows our posts to have better matchups," Kreta said. Barba earned first team all-Mid-Willamette Conference honors.
GUARD
PETER 
MASON
Central
The senior point guard was tasked often with stopping the opposing team's biggest threat. Mason reveled in that challenge. "Peter was the heart of our defense this year," Kreta said. "Many times, we asked him to guard our opponents' best player. He was the energy behind our defense." On offense, Mason averaged 8.8 points per game, but his true impact came in distributing and creating chances for his teammates. "Peter was not a shoot-first point guard," Kreta said. "He took pride in finding shooters and making the extra pass to help our offense run.
On more than one occasion, he led the team in rebounds, assists and steals." Mason averaged five assists, 2.8 rebounds and two steals per game and earned an all-league honorable mention.
GUARD
JASON 
RICHEY
Dallas
Richey formed the heart and soul of Dallas' offense. Richey was the Dragons' leading scorer, averaging 16.6 points per game — about a third of the 49.8 points per game Dallas averaged as a team. He also led the team in rebounds (103) and steals (41) and was second in assists (44), despite defenses keying in on him. Although the Dragons' season didn't go as planned, Richey provided a bright spot and earned second team all-MWC honors.
GUARD
AARON WHITE
Dallas

The senior point guard brought a steady hand to Dallas' offense throughout the season. White led the Dragons in assists with 74 and was second in steals (31). And, despite standing at 5-foot-9, White was also second on the team in rebounds (61). White earned all-league honorable mention for his performance.
POST
Haylen Janesofsky
Perrydale
The Casco League Player of the Year had another stellar season during his senior campaign. Janesofsky was the focal point of a Pirate offense that averaged 59.4 points per game — top in the Casco League. Janesofsky averaged 16.4 points, 8.0 rebounds and 3.1 blocks per game during his final season with the Pirates.
COACH
BRIAN
DOMES
Perrydale
The 2016-17 season was a special one for Domes. He not only got to coach his two sons, Daniel and David, but helped lead the Pirates to their first-ever trip to Baker City and a third-place finish at the 1A state championships. The finish was Perrydale's best in boys basketball. The Pirates reeled off 15-straight wins from Jan. 18 to March 1 en route to a 25-4 record overall. Of the team's four losses, two came against Sherman, the 1A state champions. Domes was named the Casco League's Coach of the Year.