5Oth - Hopkins
Rick Hopkins met his bride Sharon (Cobine) at Central High School. They both graduated in 1966, and the high school sweethearts were married in 1967.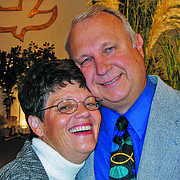 Rick Hopkins, an Army veteran, chose a career in the fire service working for Clackamas Fire, Tualatin Valley Fire, and was a Fire Chief for Polk County Fire District No. 1. After retiring from the fire service, Rick went into fulltime ministry and was the Senior Pastor of Calvary Chapel Monmouth-Independence for many years.

Sharon Hopkins has spent most her adult life loving children and serving in children's ministry. She has been the creative mind behind more than 10 years of Vacation Bible Schools held on their property, a leader in the IES Good News Club, a partner in Air Up There Balloons & Gifts, a Nordstrom "Christmas Elf," and a full-time homemaker.
Rick and Sharon Hopkins will celebrate their 50th wedding anniversary on Saturday at 7 p.m. They will renew their vows at the First Baptist Church of Independence, 1505 Monmouth St. Rick and Sharon along with their children: Guyanne Charon, Michelle Lewis, and Julie Leggs would like to invite all friends and family to attend. Reception to follow.
5Oth - Berkey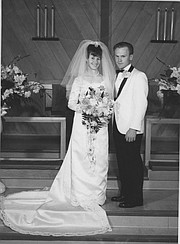 Elmer and Doris Berkey have been married 50 years, from March 17, 1967, to March 17, 2017. They were married in McMinnville, and each had several family members and friends for bridesmaids and groomsmen. Elmer worked for Smurfit Newsprint and Publishers Paper in Newberg for his entire career, as well as, farming: wheat, oats, hay and raising cattle in Polk County. While Doris was busy buying and selling antiques and collectibles as a hobby, she was devoted to raising her three daughters and helping Elmer with farming. Elmer and Doris have lived in Polk County for 50 years in the Oak Grove Community.
Elmer and Doris have three daughters, Michelle Terry and Roy Terry, of McMinnville, Kelley Jensen, of Omaha, Neb., and Cheri and Jerry Higgins, of Rickreall. They have five grandchildren and one great-grandchild. Elmer and Doris enjoy traveling, playing cards and spending time with their children, grandchildren and their brothers and sisters. Elmer still enjoys farming and raising cattle while Doris still lingering with antiques.

A 50th wedding anniversary celebration will be held on Saturday from 2 to 4 p.m. at 2731 McDonald Lane, McMinnville. It is a casual event. It is hosted by Michelle Terry, Kelley Jensen and Cheri Higgins.
More like this story