DALLAS — Adding to the focus-on-the-economy theme in Dallas in 2017, the city is looking for someone to fill a new position: economic development director.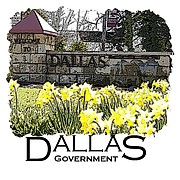 Creating the economic development post has been a lengthy process, said City Manager Ron Foggin.
"The city has actually been talking about it for a long time," Foggin said. "I've been talking about it for the last couple of years."
Last year, the city hired an economic development consultant, Greg Ellis, on a part-time basis, working about 10 hours per week. Ellis served for about a year.
"With Greg retiring, it was clear to me that we needed to take another step forward," Foggin said.

The city of Dallas posted the full-time position last month, with a salary range of $5,753 to $8,186 per month. For the remainder of the fiscal year, which ends June 30, the salary will be paid for with what was budgeted for a part-time economic development consultant post that has been vacant since the beginning of the year.
The city is conducting initial interviews with seven of the 12 total applicants to narrow the candidates to those the city wants to take a closer look at.
Foggin said the person who gets the job will first be focused on business retention and helping businesses that want to expand.
"Then looking to see what we can do to entice businesses to come here," Foggin said. "One of those (focuses) is how do we expand our position in wine country. One of the council priorities for the last few years has been there, so I think that would be a key thing for this position to focus on."
Foggin said the hiring coincides with the Rural Development Initiative roadmap process — now named the Dallas Vitality Connection — and the Dallas City Council and Economic Development Commission support creating the position.
He added that with the position being in demand for so long, people may expect to see a quick return on the investment. Foggin said he will have his own goals for progress, but thinks it could be more of a marathon than a sprint toward development.
"Setting realistic expectations for this person is going to be really important," Foggin said. "It's not going to be immediate, overnight success. This isn't instant rice where we just add hot water and wait five minutes."
To begin with, Foggin said the new director will continue to work on what Ellis started.
"Greg did a really nice job and really got us headed down a good path for economic development," Foggin said. "This will be a nice, strong step forward."