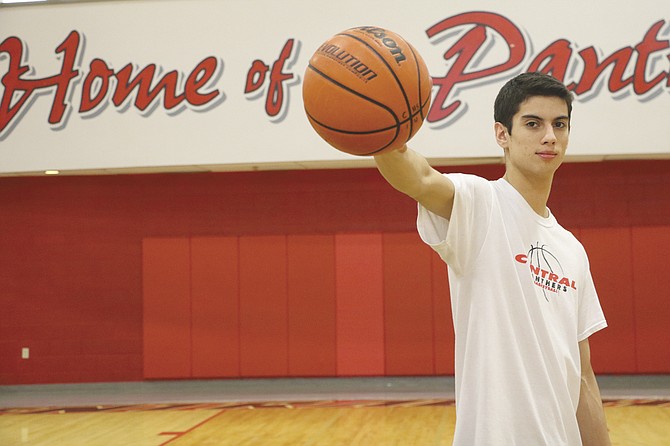 INDEPENDENCE — The jump shot. It's a part of every basketball game and something every player does at one point or another.
But when you fancy yourself a shooter, like Central senior Alec Barba, the jump shot isn't just a part of your game — it's a part of who you are as a player.
"I hate missing," Barba said. "I don't like missing shots because that could have been two or three points for your team."
Luckily for the Panthers, misses didn't come too often for Barba. The senior led Central in scoring, averaging 13.5 points per game, while shooting 50 percent on two-point field goals and 41 percent from three.
But it's his growth in other areas that made Barba such a critical piece of the Panthers' puzzle — and the Itemizer-Observer's Boys Basketball Player of the Year.
—
Shooting just came naturally for Barba. Some of the earliest home videos of Barba as a young child feature Alec shooting baskets alongside his dad.
Prior to high school, relying on his shooting was good enough to get by.
"In middle school and elementary school, it's a lot different," Barba said. "You don't really have to play defense. In high school, it's a different ballgame. There are a lot of good players who will try and take your strength away from you and exploit your weaknesses."
Barba played on junior varsity his freshman year.
"I was kind of lost, just getting to know things," Barba said. "I started to realize that hey, I can shoot with the best of them, but what else can I do? I started to get better at those other things."
He added a new dimension to his game on offense and became a better defender.
"My sophomore year, when people tried taking away my shot, I started pump faking and driving," Barba said. "On defense, I started to anticipate better to get a steal and get fast break points. I saw that good things happen when I scored."
Barba also became craftier with his jump shot. Under the tutelage of his father and Central High graduate Kaj Bansen, Barba became deadlier from long range.
"My junior year, I started getting fouled on my 3-pointers more," Barba said. "Kaj helped me learn some veteran tricks like how to make my shot quicker so some of those fouls turned into four-point plays."
But it wasn't until his junior and senior seasons that he started to break out.
"I always had the height to rebound, but I never really did it," Barba said. "Last year and this year, I would always do it a lot more. On defense, I kept my hands active and starting using my length to poke the ball away. I've also gotten better at finishing layups — getting used to contact and finishing your shot."
All of a sudden, there was much more to Barba's game than just the jump shot. The attention he demanded from opponents opened up opportunities for his teammates.
"When Alec is on the court, he makes our team offense a lot better," coach Tim Kreta said.
—
Barba plans to play at Willamette University next school year and, whenever his playing career is over, wants to become a coach — something he's already had experience in with youth camps and basketball leagues.
"I like to coach," Barba said. "I like helping them prepare for high school. I have two younger brothers. I make new friends all the time, and I teach them and give them advice and tips. I think to come back and watch them playing for Central one day and seeing some of the tips I gave them in action will be fun."
As Barba prepares for the next part of his basketball adventure, he will have fond memories of his time as a Panther and how it shaped him into the player he is today.
"I'll miss the home games and the student body," he said. "It's just so much fun. You're only in high school once, and there may be frustrations and not so fun parts, but it's all worth it."