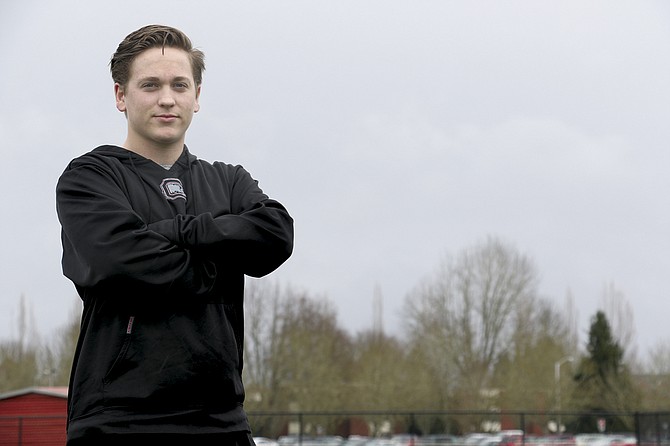 MONMOUTH — Justin Wakem was ready for his moment.
The Beaverton High graduate was participating in a college recruiting camp, and he was ready to show off his skills as a catcher. He was about to take part in a drill that required him to track down a baseball to throw to second base.
"It was my first time and I wanted to impress them and record a fast time," Wakem said.
He took off — before his cleat got stuck in his shin strap.
"I just fell forward," he said with a chuckle. "It wasn't my best showing."
But, as baseball can tend to do, learning to deal with the bad is all part of the intrigue.
"It's humbling," Waken said. "It's a game of failure. Baseball helps me so that when I do fail, it allows me to stay calm, regroup and try again, whether that's in baseball or in life. I'm not afraid of failure because of this game."
Things have turned out alright since then. Wakem, a redshirt sophomore, plays catcher for Western Oregon's baseball team and appears to be in the midst of a breakout season.
—
Wakem played in 15 games as a redshirt freshman and put up pedestrian numbers — a .278 batting average with 10 hits.
"Last season, I was a little bit jittery," Wakem said. "They were my first college at-bats. I think I've matured since then and I want to be a veteran leader. You can't do that by being out of control at the plate."

Through 10 games this season, Wakem has recorded more hits (13) and is batting .433 — a team-high among batters with at least five plate appearances.
"I relax myself at the plate," he said. "I slow everything down and relax my eyes. It allows me to see more opportunities at the plate. … I want to reach base every game. I have a mentality that I'm never going to get out. It gives me that confidence and I can calm myself down."
Wakem's ascension has coupled with a hot start for the Wolves. WOU defeated Concordia 6-3 on Saturday, and 2-1 and 9-2 on Sunday to improve to 6-0 in Great Northwest Athletic Conference play — the league's lone undefeated squad in conference play. From finding success at the plate to pitchers stepping up in key moments, the Wolves are getting contributions up and down their lineup.
"Everyone is clicking," Wakem said. "We're doing the little things right and everyone is doing their job. We're in a great spot and we have a lot of momentum."
Wakem's emergence at the plate bolsters a strong lineup. With reigning GNAC Pitcher of the Year Brady Miller leading a strong pitching staff, the Wolves are set to contend for a conference title.
"I know it's cliché, but anything I can do to help us win is all I care about," Wakem said. "If we get that W, that's all I want."
With a strong start, the Wolves have taken the first steps toward a GNAC title. As is always the case with baseball, there will be challenges and stumbles ahead. How WOU reacts and recovers will determine how good they can be.
"I'd say having energy," Wakem said. "Last year, sometimes with this weather, it can affect you in a way where it's hard to come out and play to the best of your ability. We need to continue feeding off each other's energy and playing for the guy next to you."
Western Oregon hosts Corban Wednesday (today) at 2 p.m. before hosting Central Washington for a pair of doubleheaders at 1 p.m. Saturday and noon on Sunday.