INDEPENDENCE — Central's baseball team swept Woodburn, winning 11-0 on April 25 and 9-0 and 10-4 on Friday.
"We (used) a lot of young pitchers last week and I thought overall they competed very well," coach Reed Rainey said. "Brendan Lesmeister and Ruben Cedillo were good, and Josh Rodriguez pitched a complete game shutout on Friday. We played good defense the entire week. Peter Mendazona was terrific at shortstop."
Central also found success at the plate. Jackson Holstad hit two home runs, and Mendazona had five hits during the series.
The Panthers (11-7 overall, 8-7 Mid-Willamette Conference) entered the week in a tie for fourth in the MWC.
Central played South Albany Tuesday after press time.
The Panthers play at South Albany Wednesday (today) before hosting the Rebels Friday at 4:30 p.m.
"This week will be a very important week for a lot of teams," Rainey said. "We need to have a good week to keep pace with everyone else, but I like how our pitching is lined up this week and we are swinging the bats much better now."
SOFTBALL DEFEATS CORVALLIS: Central's softball team defeated Corvallis 12-6 on Monday.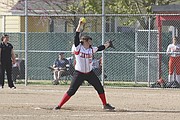 The Panthers lost to Silverton 7-5 on Friday.
Central entered the week with an 11-7 record overall and 7-5 mark in MWC play, good for third place.
The Panthers hosted South Albany Tuesday after press time. Central hosts Crescent Valley Wednesday (today) at 4:30 p.m. before hosting Lebanon Friday at 6:15 p.m. and Dallas Tuesday at 4:30 p.m. in the team's final home game of the regular season.
GIRLS TENNIS FALLS TO CRESCENT VALLEY: Central's girls tennis team lost to Crescent Valley 5-0 on Thursday. Three singles matches (Julia Hamar, Kylie Smith and Ana Martinez) were not finished due to rain.
Central hosts Silverton Thursday at 4 p.m. in the team's final match of the regular season.
The boys tennis team lost to CV 8-0 on Thursday and fell to South Albany 8-0 and 7-1 on Monday. The two teams finished a match that was postponed on April 23 due to weather.
Chris Polanco earned the team's lone victory.
The boys tennis team plays at Silverton Thursday at 4 p.m.
The MWC district championships begins May 10 at Timberhill Tennis Club in Corvallis.