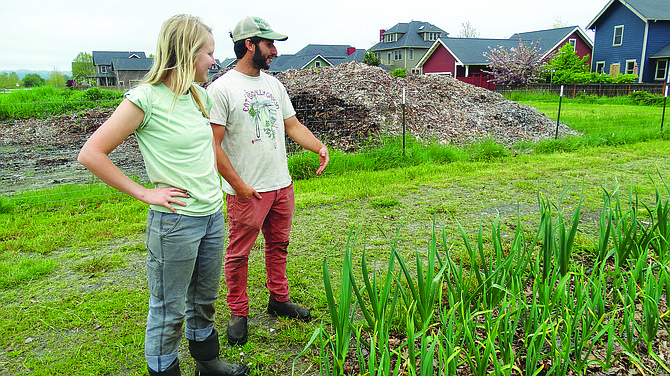 MONMOUTH — Tucked away in the blossoming neighborhood known as Edwards Addition lies an urban farm, an agrihood.
About one acre is cultivated, with another one waiting to be planted — someday, once the customer base grows, said Eden Olsen.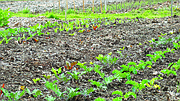 Olsen, 25, and Dylan Stein, 28, run Lucky Crow Farm, which is contracted by Olsen Design and Development to operate the urban farm surrounded by single-family homes.
"These are popping up all over the place — the East Coast, California," Stein said. "It's kind of replacing how other communities would be planned around a golf course. These are planned around an urban farm or a big garden, so it's an amenity to the people."
Community members in Edwards Addition and beyond may purchase CSA (community supported agriculture) boxes, supporting a portion of the harvest before the season starts. Throughout the season, which runs the first week of June through the end of October, members receive a weekly box of produce.
"So they're getting — hopefully — their vegetables for the season," Olsen said. "It's supposed to kind of cover what they'd get in the grocery store, so basically everything."
The CSA is limited to 50 this year, and Lucky Crow Farm has filled their shares.
To provide food for 50 families each week, crop planning is a big part of what Olsen and Stein do.
"We focus on intensive farming, so really planting as densely together as possible to utilize the space efficiently," Olsen said.
From herbs to red kitten spinach to garlic to peas and potatoes, things are already sprouting up in the rows.
"We've struggled with how wet it's been," Stein said. "We've been scrambling to get all our stuff in the ground."
Without using a greenhouse, Stein and Olsen are stuck using the true Oregon growing season — which has not started early this year.
"The soil was really cold for a long time, and the rain really affected when we could get into the soil," Olsen said. "I think if the winters and springs progress like that, I would put up a hoop house to be able to produce the food that we need. The cold weather up through April is kind of brutal for some crops."
The urban farm model can provide not only local, organically grown food for families, but business opportunities for young farmers who may not otherwise be able to practice their trade.
"The barrier to farm right now for young farmers is land," Olsen said. "So if these communities are creating spaces where farmers are needed and they can start their own business, I think there's potential there. At least for Dylan and I, we couldn't buy our own land."
With the average age of farmers being 65, Olsen said getting young farmers into the land is important.
Stein didn't always want to be a farmer. He grew up in the suburbs and studied politics in university before taking an office job.
"I had this sort of an awakening," he said. "This is not how I want to be spending my time."
Through a series of events, Stein found himself working as an intern for an organic farm.
"It sort of clicked for me that this is where I want to be spending my energy and effort," he said. "It's a culmination of a lot of work, but it's rewarding, and it's really the only work I want to be doing."
Lucky Crow Farms uses organic practices, and is working toward certification.
"We grow all our plants with no pesticides or synthetic fertilizer," Stein said. "So, it's keeping up with the slugs. When you're farming sort of organically, it's always, you've got to be kind of ducking and dodging to get the pest control right."
A benefit of the CSA, urban, community farm model is it eliminates the middle man.
If a customer doesn't care for spinach — or consumes a lot of it — he or she can let Olsen and Stein know so the farmers can make adjustments to the crop planning for the next season.
The farm also provides a place for families to come volunteer or to learn more about the origins of their food.
After years of maneuvering between members of the Edwards Addition homeowner's association and the Monmouth City Council, Lucky Crow Farms has decided not to raise chickens.
The council settled on allowing urban farms to raise up to 25 hens, but Olsen said that isn't enough to provide eggs for 50 families.
"That means maybe one egg every three days," she said.

For more information or to sign up for the CSA: luckycrowfarm.com.