WEST SALEM — The man arrested after threatening customers at a gas station last week is due in Polk County Circuit Court Thursday.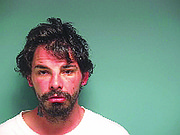 At about 6 a.m. on May 1, deputies from Polk County Sheriff's Office, along with the officers from the Independence Police Department responded to the VP Gas station, located at 5082 Salem-Dallas Highway, on a reported disturbance.
Callers from the scene said a subject, identified as Jessi Cisneros, was threatening customers and employees, according to the Polk County Sheriff's Office.
Employees and customers barricaded themselves inside of the business. Cisneros eventually forced through two doors, threatening those inside. Eventually, he shut the power down to the building and left. When deputies arrived, Cisneros was running across the highway. They took him into custody, according to police.
Cisneros has been charged with 18 counts, including attempted kidnapping, burglary, theft and six counts of menacing.
He is in custody at the Polk County Jail on $119,000 bail and is scheduled to appear in court at 1:14 p.m.