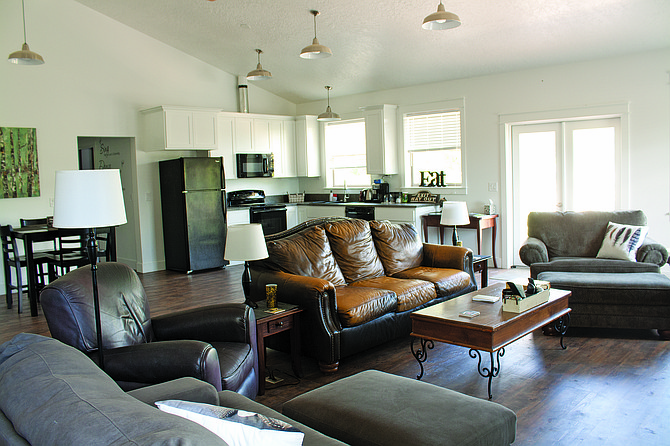 FALLS CITY — When David Radke first looked at the property at 246 S. Main St. in Falls City, he saw something most people wouldn't: A bed and breakfast.
At the time, the home on the property — most of it built in 1907 with an addition in the back — looked like its best days were behind it.
Home away from home
What: Little Luckiamute Creekside Bed & Breakfast
Where: 246 S. Main St., Falls City
Contact: 503-539-7558, 541-979-3245 or www.littleluckiam...
Of note: Call for room rates.
"It had an old rickety front porch on it. No foundation. A one-car garage," Radke recalled. "The back was worse than the 1907 part of it. It was scary horrible."
Radke told the property owners Paul and Judy Ward his vision for the house and its Little Luckiamute River frontage, and they agreed to put up the financing to make it reality. The Wards, of Dallas, are longtime community members and friends of Radke and his wife, Cheryl.
"They are the greatest," David said. "She was a teacher of mine years back, and I just think the world of them."
While he had a green light to get to work, Radke said he has one more person to convince that his dream would work: Cheryl.
"I said, 'Let's do a bed and breakfast. Nobody has done anything like that.' You've got the mountain bike thing," he said, referring to nearby Black Rock Mountain Bike Area. "We brainstormed a bit."
What came out of their planning is Little Luckiamute Creekside Bed & Breakfast, a four-room bed and breakfast that has just opened. It required a painstaking remodel of the existing house and an addition to accommodate guests.
The approximately 2,000-square feet of B&B includes one king bedroom, two queen bedrooms and a four-bed bunk room. Guests have shared access to a full kitchen, TV room and two bathrooms. Those staying at Little Luckiamute are treated to a beautiful view and the soothing sounds of the namesake river flowing at the edge of the property.
The Radkes live in a separate part of the bed & breakfast and lease back to the Wards. The business still is a work-in-progress, but they are open for guests.
"We don't have a licensed kitchen yet, but there's always bagels. There's pancake mix. My wife stocks it with fruit, coffee."
David said Cheryl still has another year before she retires from Oregon State University, so they aren't ready to plunge into cooking just yet.
"Believe it or not, we're getting calls," David said. "We just got our license."
To cater to the mountain bikers — and some have already made reservations — there's hot and cold water on the outside so riders can clean the mud off their bikes — and themselves. One of the rooms has a bike theme in recognition of the popularity of the sport.
Another room has a nautical theme.
"Paul worked as a commercial fisherman for years, so we thought it would be fun," David said.
He said they may develop wine tours and a local horse owner is putting together a horseback riding package to give guests more to do during their stay. David said he'd learn how to kayak the Little Luckiamute and would offer that service to guests, too.
David said Falls City residents have been welcoming and supportive of the venture — even giving the couple a round of applause when the city council approved the B&B's land use permit.
"There's great people in this town," David said.
He said having grown up in Dallas, the regional pecking order went like this: People in Salem would make fun of Dallas. Residents of Dallas would extend that courtesy to Falls City. Finally, Falls City, would look down upon the former town of Valsetz.
Now that he lives in Falls City, David said that was based on misconceptions.
"People just laugh at me when I say that I'm here to stay in Falls City. I'm here," David said. "They laugh, but you know what? The people are great."
Now, David and Cheryl hope they can repay the kindness they've received.
"We're just getting started on this place," David said.