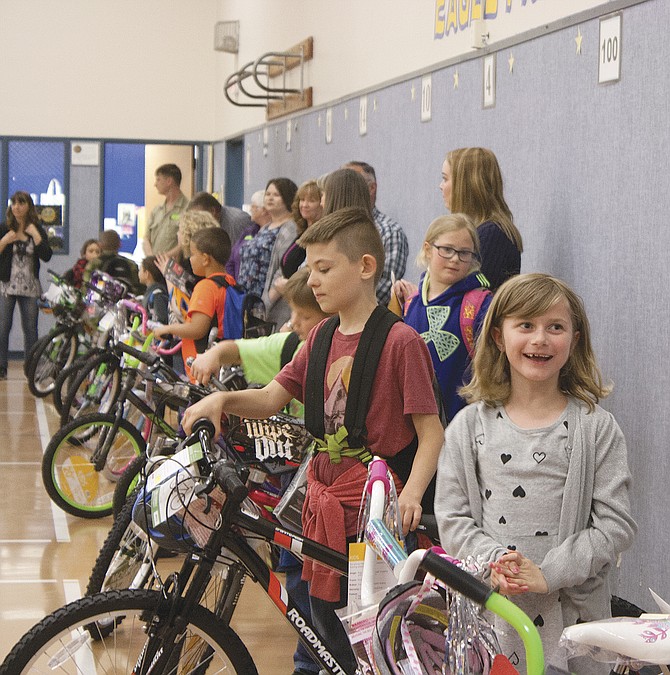 DALLAS — Oakdale Heights Elementary students were buried in books through the month of April, hoping for a chance to win a bike.
For the eighth year, Oakdale gave away bikes as a reward for reading books outside of school.
"The whole idea is to keep them reading," said Susan Fischer, an Oakdale kindergarten teacher, who collects donations for the program.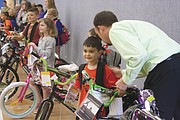 After having their noses in books for the entire month, the kids eagerly awaited the presentation of the bikes, one for each class, on Monday afternoon.
Physical education teacher Jon Petersen emceed the presentation and congratulated the students on their hard work.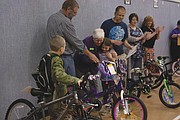 "You all did really great on reading a lot of books. The main goal was to read a lot of books," he said.
The "Books for Bikes" program provides one bike for each classroom. The students are given reading session sheets, with three sessions on each one. Once a student completes all three — a parent or guardian has to sign off on them — they are turned in for a chance to win the bike. Students can turn in as many sheets as they can complete in a month.
"I would guess that we've seen an increase in out-of-school reading," Peterson said.
He said 16 bikes were given away this year — 15 on Monday and one in the middle of April to remind the students what they were reading for.
One of the lucky winners was third-grader Zeric Reed. He wasn't sure how he was going to get his bike home Monday. Maybe the bus?
"I'm going to try," he said, smiling. Of course, the school made sure all bikes got to their proper destinations.
Zeric said his new bike is "great" because he has bikes at home ,"but they're all broken."
As he waited to leave the school's gym with his new bike, another student bounded up to Zeric.
"Hey Zeric, high-five dude," the boy said, congratulating his friend.
Fischer said the program started with a donation from Dallas Lion John Hamstreet. He donated a bike for the school district to give away to a student at Oakdale Heights or Lyle Elementary about eight years ago — and he did again this year.
From that beginning, Fischer took on the project.
"Then, a kindergarten teacher and I were talking one day and we are going, one bike, 400 kids, not much motivation," Fischer recalled.

She said the other teacher mentioned at another school, they gave away a boys and a girls bike.
"I said, 'I think we can do better than that,'" Fischer said. "So ever since then we've gone and gotten a bike per class."
This year donors were: Donna Wetter, Shear Perfections, Don and JoAnn Graves, John and Janet Beck, Mary Christensen, Les Schwab, Figaro's Pizza, Mid Valley Eye Care, Mid Valley Dental Association, Stan Schmidt Insurance, A-Team Locksmith, Kings Pump Service and Dallas Lion's Club.
Some donated money anonymously and one donor gave $1,000 this year, Fischer said.
"So many of our donors are year-after-year donor. That just keeps us going," she said. "I'm glad to say that kids are still excited about bikes."
It costs about $100 to buy a bike and a helmet.
Fischer plans to keep the program going as long as possible because it reinforces all the reasons she became a teacher.
"It's educational, fun, it gets the kids outside with their bikes doing something active, and it's something that can be passed down through families," she said. "I love it. It sells itself, because it's good for kids."
For more information, or to donate: 503-623-8316.