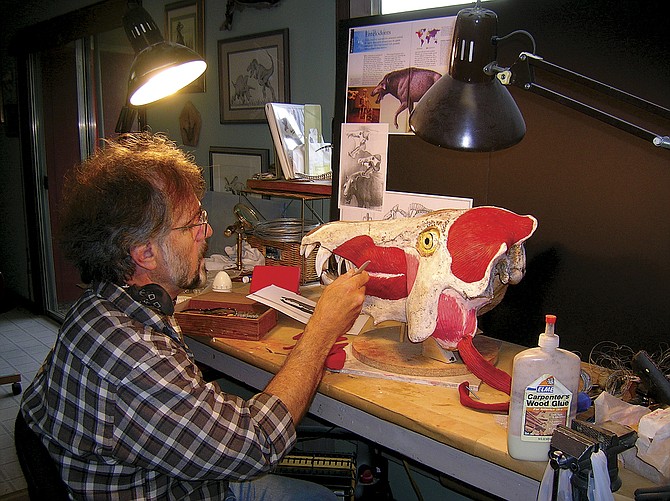 DALLAS — Watched "Jurassic Park" lately — the original? Remember how chillingly real the dinosaurs appeared?
Dallas resident and artist Mark Hallett consulted with the film's creators make those movie monsters look like they were living and breathing.
"I was really thrilled by that," said Hallett, a "paleoartist" who has made a career of helping bring dinosaurs and other extinct creatures to life through illustration and modeling. "I met Steven Spielberg and Michael Crichton, the author. I got to be a fly on the wall in meetings where they were hashing out the plot."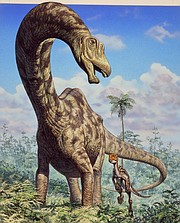 The author of the book "The Sauropod Dinosaurs: Life in the Age of Giants," Hallett continues to study, illustrate and write about Earth's prehistoric life.
He will read from the book at Dallas Public Library at 2 p.m. on Saturday. Hallett will display models, fossils and the art he uses to create his depictions.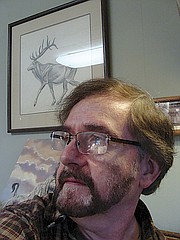 In his 44-year career, Hallett found a way to stitch together his interests in art and science, earning a degree in art and using it to illustrate ancient life. In 1973, his first commission was with the San Diego Natural History Museum painting murals, and later as an exhibit specialist.
Four years after that first gig, Fossils Magazine hired Hallett to create depictions of prehistoric animals and environments.
Not a traditional career, Hallett said he had to do a lot of work on freelance basis — even for free to show what he could do. H
e worked for the San Diego Zoo as a freelancer, as well as the publication designer and art director on the Zoobooks children's series.
"There's no prescribed way you get into this profession," he said. "In art, you have to make your own career. It was certainly that way for me."
In 1981, Science Digest gave him an opportunity to work on a story about dinosaur discoveries, which led to his work appearing in Life, Smithsonian, and National Geographic. His paintings have toured museums in the U.S., Great Britain, Europe and Japan. In addition to Jurassic Park, he's worked on Disney's "Dinosaur."
Through carving out success in his unusual line of work, Hallett has stayed true to his childhood fascination with how long-gone creatures may have looked. He said he loves doing the research, which he attributes to being "a librarian's kid."
"I was interested in dinosaurs from 4 and a half or 5 years old, when there were little or no good pictures of dinosaurs," he said. "I was fascinated. I wanted to think out in my mind and with my hand what it would look like."
Hallett has not pursued paleontology in a formal sense, but does extensive research to inspire his art, and now, writing.
He's looking forward to talking about his work, and the questions from the audience, especially those from children who share his love of dinosaurs.
"I think their parents are too shy to ask, so the kids ask the really good ones," he said.
He said he's happy to be a spokesman on behalf of science when discussing his work — all of which is based on scientific discoveries.
"Science really needs a boost. People are wary of it," he said. "They don't understand that we really depend on it for our daily lives."
His next paleoart ventures are illustrations and writing for two books about fossil horses and the origins of big cats.
Hallett also cares for animals and plants living now, encouraging animals to live on his property in Dallas, including wild turkeys and osprey. He's planting native Oregon White Oaks around his home as well.
"I'm fascinated by animals," he said. "I'm a closet Dr. Dolittle."