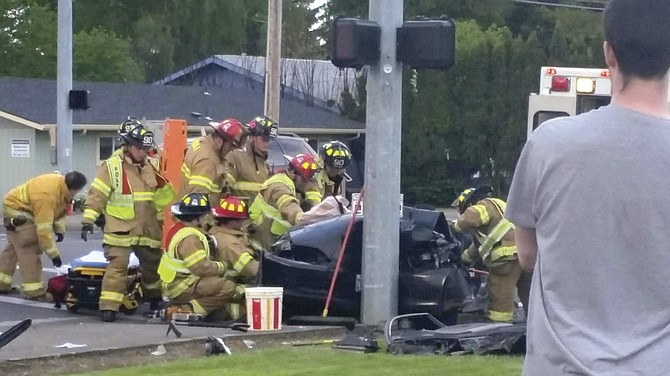 INDEPENDENCE — Three people were injured in a single-car crash into a light pole at the intersection of Gun Club Road and Monmouth Street on May 10.
The driver, Donna Zachary, 58, of Independence, was arrested for reckless driving.
Two occupants were able to get out of the sedan on their own. One needed heavy extrication before being transported via ambulance to a local hospital.
Independence Police Department Sgt. Tino Banuelos said traffic at the intersection was significantly affected for about half an hour. The vehicle was towed from the scene, and electrical service was not affected.
Banuelos said they are investigating whether drugs, alcohol or speed were factors in the accident.
Polk County Fire District No. 1 responded with one fire engine, two medic units, one heavy rescue, and 26 personnel.
Deputy Chief Neal Olson said Polk No. 1 personnel encourages everyone to always wear their seatbelts.
The intersection was crowded with bystanders taking photos and video, Olson said.
"If you witness one of these events, please consider whether you would want a stranger taking photos of your son, daughter, husband, wife, mother or father in the same situation," he said in a press release. "Please respect victims and their privacy."