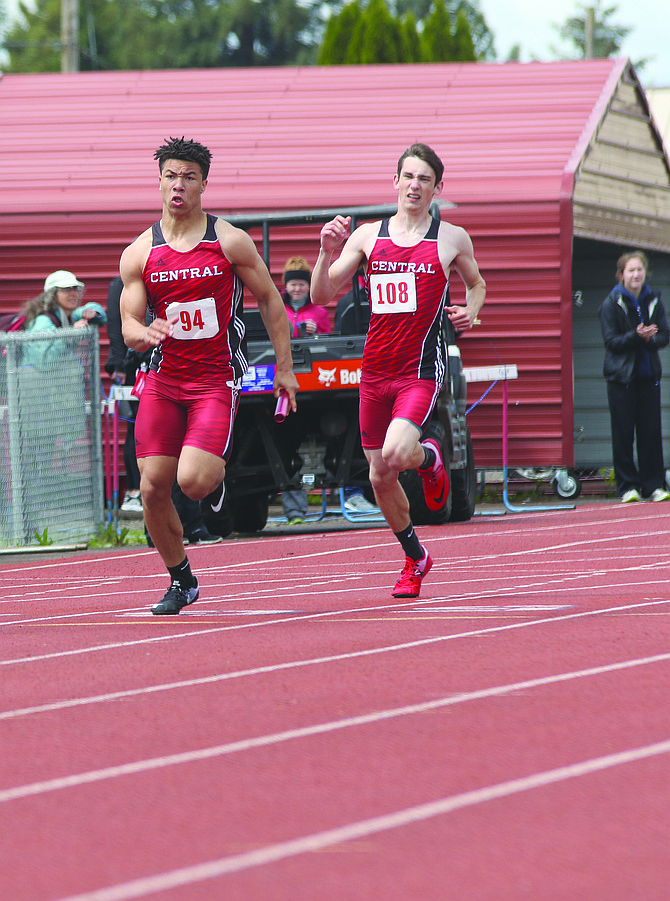 LEBANON — The 2016-17 athletic year has been a frustrating one for Central senior Isaiah Abraham. Injuries cost him most of the football season and basketball.
CLASS 5A TRACK AND FIELD STATE CHAMPIONSHIPS
Central qualifiers: BOYS — Issac Burgett, jr., 400-meter run (seeded eighth); 4 x 100 relay (Sterling Hutchinson, Peter Mason, Issac Burgett, Isaiah Abraham, seeded sixth); 4 x 400 relay (Sterling Hutchinson, Josh Dickson, Zach Meyer, Issac Burgett, seeded third); Peter Mason, sr., long jump (seeded ninth); Jaydon Aydelotte, soph., 110 hurdles (seeded ninth).
GIRLS — Bethanie Altamirano, jr., 200 (seeded seventh) and 400 (seeded third); Sophia Henke, soph., high jump (seeded fourth).
But he had a goal in mind — to step onto the track for the 4 x 100-meter relay along with teammates Sterling Hutchinson, Peter Mason and Issac Burgett at the Mid-Willamette Conference District Track and Field Championships on Saturday.
"I knew I could push through it," Abraham said. "I knew I was going to be out here whether it hurt or not."
His teammates knew he was hurting, but were supportive of him throughout the spring.
"We told him not to push it," Mason said. "Districts is the only meet that matters. If you're ready for that, then that's all we want."
Hutchinson got Central off to a strong start, and Mason and Burgett only extended it.
"I knew Sterling was going to get us a lead," Mason said. "He's one of the best starters in the league. My goal is to keep that lead or add to it."
When Burgett handed the baton off to Abraham, the Panthers entered the homestretch in first.
Abraham left it all on the track, anchoring the relay team to a first-place finish — but it cost him a possible level two hamstring strain.
"It means a lot to be out there at least one more time with these guys," Abraham said. "This was the first time we raced together. I'm happy to be able to at least come out here and help us get to state."
Coach Eli Cirino said he's unsure whether Abraham will be able to compete at state. But for at least one race, everything was as the relay team envisioned it would be.
"It cost us an injured teammate, but we made it to state," Hutchinson said. "That's good enough for me. I don't think anyone else wanted this more than us."
—
Sophomore Sophia Henke wanted to focus on the triple jump during the 2017 season.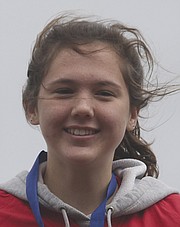 Coaches convinced her to give the high jump a shot — despite her struggling with the event as a freshman.
"I wanted to focus on triple jump because last season wasn't a great season for me in the high jump," Henke said. "Coaches pushed me to do high jump, too."
Turns out that was a good call.
Henke won a district title in the high jump with a mark of 5 feet, 1 inch.
"I was really nervous, but I love districts," Henke said. "Watching all the girls compete on Friday, I kept thinking, 'I'm ready.' On Saturday, it was all about not overthinking, because if you do, you're not going to perform at your best."
The mark was a new personal record for Henke. As a reward, Henke is headed to state for the first time.
The full scope of her accomplishment hasn't set in yet, but she's excited to see what will happen.
"I keep thinking about what that means because it's completely new to me," Henke said. "I think it's a really neat opportunity, and I want to thank my coaches for helping me. It's crazy."
—
Moments after junior Bethanie Altamirano won the girls 200-meter run (26.49 seconds), there were tears in her eyes. Despite also winning the 400 (59.78) earlier that day, Altamirano figured the 200 would be out of reach.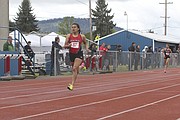 "I did not expect to win," she said. "I thought I was going to get second (in the 200). I think I need to have confidence with myself, but I had a huge smile on my face. It was crazy."
Now, Altamirano is headed back to Eugene.
"It's just as exciting," she said. "It feels like it's new and like I've never done this before."
But Altramirano has been there before and has her sights set on competing for a state title, especially in the 400. Her biggest hurdle has little to do with her abilities.
"I need to be more confident with myself," she said. "Last year at state, I thought there's no way I can beat all these girls. I need to work on that."
—
Burgett qualified for state in the 400, placing second in the 400 (51.57). Mason took second in the long jump (21-1¾). The boys 4 x 400 relay team of Hutchinson, Josh Dickson, Zach Meyer and Burgett placed second (3:29.10). Jaydon Aydelotte earned a wild card berth in the 110 hurdles.