POLK COUNTY — Starting in the month of March, the Polk Interagency Narcotics Team began an investigation which lasted more than a month involving the trafficking of heroin in the Polk and Marion county areas by Samantha Gaines, Levi McCleskey and others.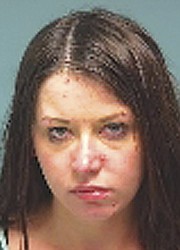 With the assistance of the Salem Police Street Crimes Unit, on April 21, McCleskey was taken into custody. At the time McCleskey was found to be in possession of 22.5 grams of heroin, danabol steroids, and a significant amount of cash and gold.
A search warrant was executed at McCleskey's residence and a storage unit held by Gaines, where more contraband was located.
The Polk County Sheriff's Office asked for help finding Gaines on Friday morning . Police said she could have been carrying a firearm and should be considered dangerous.
Gaines was arrested booked into the jail on Friday on three counts of delivery of heroin and two counts of possession of heroin.
She's also charged with possession of methamphetamine in a separate case.
Marion County asked for a hold on her on a charge of delivery of heroin.
Bail was set at $715,000. An arraignment took place on Monday in Polk County Circuit Court with another court appearance scheduled for Thursday at 1:14 p.m.