Black Rock Mountain Bike Area offers thrill ride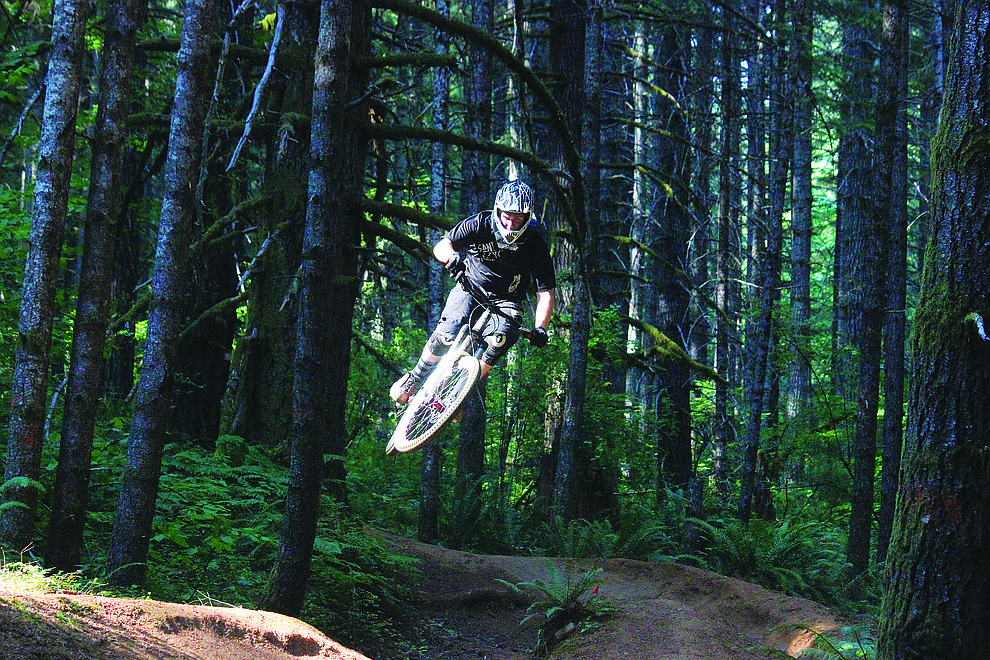 Black Rock
What: Black Rock Mountain Bike Area.
Cost: Free and open to the public year-round.
Directions: From Dallas, head southwest to Highway 223 and continue for 5 miles. Turn right onto Falls City Road and drive 4 miles into Falls City. Once in Falls City, travel west through downtown and bear right before the bridge onto Mitchell Street. Drive up a short hill, turn left onto a dirt road and follow the river for 3 miles until you reach the Tapawingo Camp sign. Turn right here, cross a bridge, and park at an area next to the main gate. Do not drive past the gate, even if it's open.
For more information: For details about Black Rock or to see schedules for upcoming events and races on the trails, visit the Black Rock Mountain Bike Association's website http://www.brmba.org">here.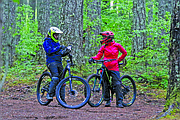 The rush of excitement. The moments when you're flying through the air or completing a tight corner can be electrifying. Black Rock Mountain Bike Area, located near Falls City, offers cyclists a haven for experiencing a thrill ride.
Nearly 10 miles of trails are populated by ramps, elevated bridges and other features — all maintained by the volunteer organization Black Rock Mountain Bike Association.
Riders from around the world flock to the free-ride trails. Free-riding is a more aggressive subset of mountain biking that focuses on downhill rides, jumps and maneuvering through and over obstacles.
"There's nothing like this around the Pacific Northwest," trail manager Gary Weaverli said. "None of the other trails are like Black Rock. They're more tuned for cross-country style riding, where you sit and pedal up and down the mountain. At Black Rock, you jump down the mountain."
BRMBA is world-renown as one of the best spots to free ride. The International Mountain Bike Association added BRMBA to its Epic Trail Program in 2010 — a distinction given to trails based on quality of design, organization behind projects, and cooperation with public agencies.
BRMBA has partnered with the Oregon Department of Forestry since about 2002. Black Rock was a destination for dirt bikes during the 1980s until ODF closed it to motor vehicles. In 2002, a trio of people approached the ODF about building a sanctioned free-ride trail.
From there, Black Rock has blossomed — all thanks to dedicated volunteers.
The association holds maintenance days throughout the year when volunteers show up in full force to add, repair and maintain trail features.
"These are people who are passionate about the sport," Weaverli said. "We care about the sport, the mountain and the environment. We think about when designing trails how it might erode, how it is going to treat the rider, and how to make it fun and exciting while still being safe."
While Black Rock offers its share of challenges, you don't have to be an expert to enjoy it.
BRMBA has a "Basic Training" section aimed at beginning riders to get them used to some of the course features they'll encounter on more advanced trails.
"You can just come out and play," Weaverli said. "You don't have to hike up three miles to the top. You can do small laps and do one or two little jumps and get experience really quick."
Trails get more advanced from there.
"You can go there and progress from a person who doesn't really ride a bike, and you could become an expert just by riding the trail system there," Weaverli said.

But just as important as the quality of the trails is the community you become a part of. Weaverli said making new, lifelong friends is a common occurrence.
"We're only as good as the people who volunteer," he said. "There are ways to get as involved as you like and share a common passion with people from around the globe."
Whether you're a seasoned veteran or hopping on a mountain bike for the first time, Black Rock can be your gateway to adventure — just be ready for a thrill of a lifetime.
"Our slogan, if you will, is to build, ride and respect," Weaverli said. "We like to build trails, ride the trails, and respect the trails. That's what we're all about."