Let it fly at Dallas City Park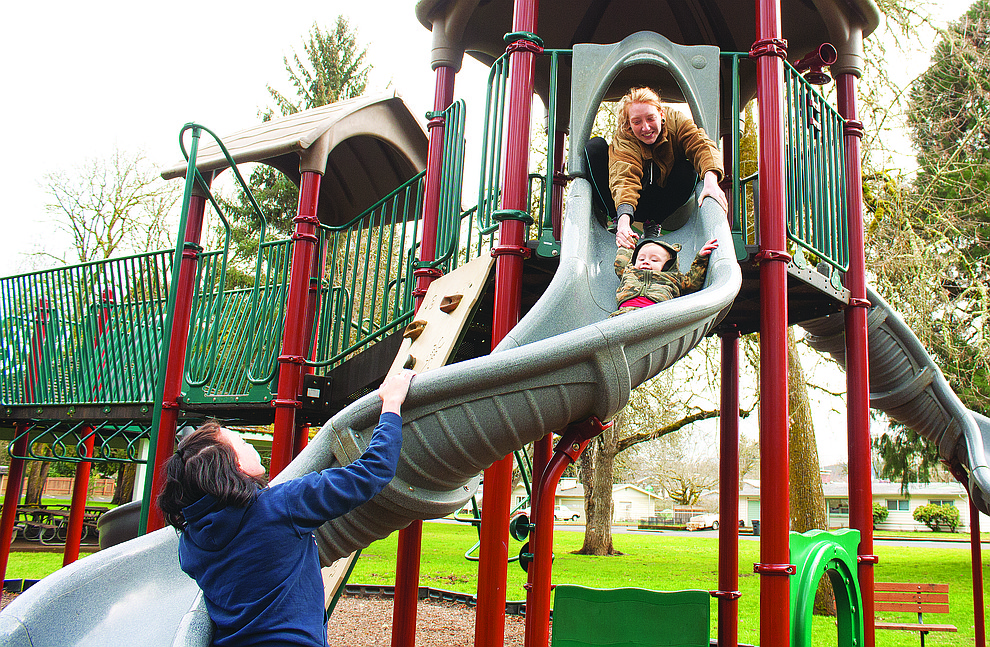 Walk in the park
Dallas City Park is the town's largest at 35 acres.
Entrances are located at 300 SW Brandvold Drive (new side), or 600 SW Allgood St. (old side).
If you hear a cry of "Fore!" in Dallas City Park, don't be surprised. Don't look for a golf ball hurtling toward you either — what you should be watching for is a flying disc.

That is because the park is home to an 18-hole disc golf course, popular with casual players and tournament organizers.
The course opened in 2009, and since has become one of the park's major draws.
Disc golf is more than just throwing a Frisbee around — even though it may look that easy. As in traditional golf, control of aim and distance is required. Dallas' course offers ample opportunity to sharpen your skills in a fun environment.
Most holes are short. Instead of distances posing a challenge, it's the hazards that make this course unique.
Whether weaving your way through trees or avoiding drifting into the creek, the course offers several holes that make even "pro" players need a strategy.
No tee times are necessary. Unless there's a tournament taking place, you can walk on any time during the day and take all the time you need.
Course maps and score cards are available online at www.ci.dallas.or.us/discgolf.
Not up for a round? The city's largest park has all the mainstays to keep families entertained for hours. Multiple playgrounds offer slides, see-saws, merry-go-rounds and more.
Trails and pathways are perfect for a creekside stroll. Tables and barbecue pits provide a great place for outdoor gatherings or quiet picnic lunches.
During the summer months, it's a common sight to see families making a splash in the creek.
Looking for something even more contemplative? Dallas City Park features the Delbert H. Hunter Arboretum, tucked away on five acres in the southwest corner of the park. The arboretum is dedicated to appreciation of Oregon's native trees, shrubs and wildflowers.
Arboretum volunteers are so committed to that mission that they've experimented with practices used by the region's Native American tribes to restore ecosystems. Last fall with the help of the Dallas Fire Department, volunteers burnt a portion of the meadow section planted with native bunch grasses. In previous centuries, tribes used annual fires as a regeneration tool in places in the Willamette Valley.
"I expect the grasses will regenerate," said Dale Derouin, an arboretum volunteer. "I'm assuming most of them will come back because they developed under this regime."
You can see the results of the experiment by taking a walk through the meadow. Along the way, stop to check out other native plants and trees growing alongside the trails.
Benches throughout the arboretum provide spots to rest or take in the views.
The arboretum is open during park hours, and the visitor's center is open Tuesdays from 9 a.m. to noon.
Visitors can reach the arboretum by traveling through Dallas City Park via the Levens Street entrance or, more directly, via West Ellendale Avenue, then Westwood Drive and Park Street.
For more information on the arboretum: 503-623-7359.