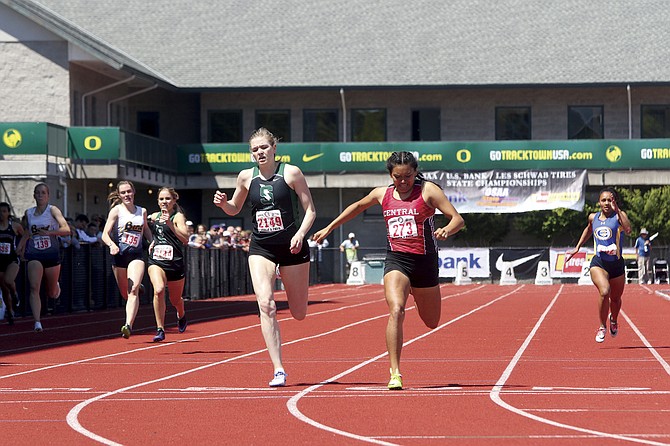 EUGENE — About an hour before the girls 400-meter final at the OSAA Track and Field State Championships on Saturday, Central junior Bethanie Altamirano felt like she was carrying the weight of the world.
"I cried because I was scared," she said. "I was scared I wasn't going to win. I was scared of not beating the school record. I was scared of losing."
It was the kind of pressure that could derail even the most talented athlete. With her race quickly approaching, Altamirano wasn't going to let that happen.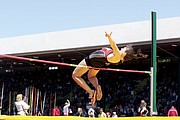 "I took a walk and thought of how I was going to run the race," Altamirano said. "I thought about starting faster and remembered who I was running for."

By the time she stepped onto the track for the 400, she looked calm and determined.
"(Coach Eli) Cirino told me not to lose the girls at the start," she said. "In other races, I used to think I have time to catch them. At state, you can't make that up."
As the starting gun went off, Altamirano was aggressive, and it became clear it would come down to her and Summit's Sarah Reeves.
The two were in a virtual deadlock headed into the final 100 meters, but Altamirano would not be denied.
"I knew that was going to happen," she said. "I imagined myself that I could win, that I deserved to win for all the work I've put in just for this."
Altamirano won the race in 57.67 seconds. Reeves finished in 57.77.
"It feels amazing," Altamirano said. "I'm in shock. That was the hardest race of my life. It's freaking me out a little. It's crazy to think (that I'm a state champion)."
Altamirano placed eighth in the 200.
"I want to thank God for letting me be here, because I don't know if I'm coming here next year," she said. "I like to thank Cirino, too, because he's done so much more for me."
The Panthers saw athletes place in eight events during the state meet.
Sophomore Sophia Henke set a new personal record in the high jump, reaching 5 feet, 3 inches, and placed third.
"It was really calm," Henke said. "You'd think there'd be more anxiety down on the field than anywhere else, but it's the calmest place in the whole stadium. I was just hoping to clear the starting height. I didn't think I was going to PR by two inches. That's pretty cool. It was a crazy opportunity. I had an amazing support system and I definitely want to do high jump again."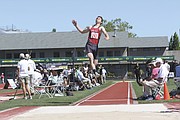 On the boys side, junior Issac Burgett took sixth in the 400, and sophomore Jaydon Aydelotte placed sixth in the 110 hurdles.
"This has been like living the dream," Aydelotte said. "I went into districts not knowing how I would fare against others, and I happened to be a wild card for state. I'm ecstatic. I'd like to thank my coaches. They're the real drivers of my success."
Senior Peter Mason finished seventh in the long jump. The boys 4 x 100 relay team of Sterling Hutchinson, Mason, Burgett and Keegan Goodrich took 10th.
"I was hoping to do just a little bit better than I did, but the atmosphere at Hayward is great," Mason said. "We count ourselves lucky because we get to come and compete in the greatest facility in the country. … Knowing I'm a senior, I'm counting down the jumps I had left. Before my last jump, you understand that this is the last one in a Central uniform. I tried to give it my all."
The boys 4 x 400 relay team scratched after a bump caused Burgett to step on the railing and fall.
"In one afternoon, we experienced about the highest high and the lowest low that you can have in this sport," Cirino said. "We always talk about creating memories and we definitely did that this weekend. None of us will ever forget Saturday."