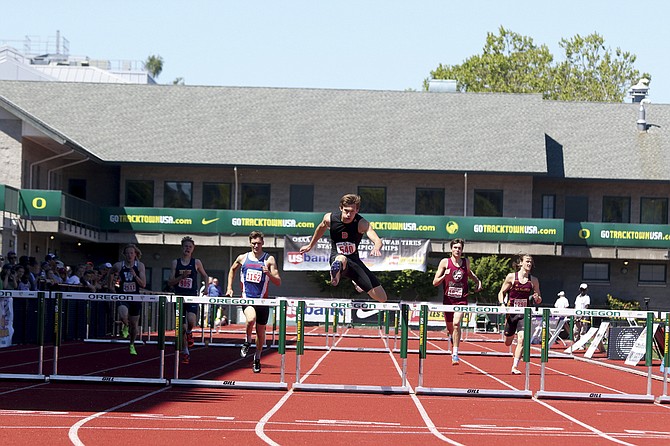 EUGENE — It wasn't the dream ending he hoped for, but Dallas senior Jacob Deming highlighted a strong showing from Dallas' track and field team at the OSAA Track and Field State Championships on Friday and Saturday.
Deming capped off a strong state meet by taking second in the 300-meter hurdles. Deming also placed fifth in the long jump and 11th in the triple jump. Deming's time of 38.53 seconds in the 300 hurdles was a new personal record.
"Overall, I'm happy with the time and with myself," Deming said. "(State) is definitely different than anything else I've done. You have this sense of awe."
Deming was one of several Dragon athletes to place at state.
Jacob Collins took fourth in the pole vault (13-6¼); Aaron White placed eighth in the triple jump (42-5¾); Trevor Cross finished 10th in the 3,000 (9:08.99); and Jacob Ronco took 11th in the javelin (144-10).
For the girls, Jenifer Webb and Stefani Tallon finished seventh and eighth (16.11 and 16.18) in the 100 hurdles. Kayley Sayer placed seventh in the long jump (16-3¼); Hailey VanWell took ninth in the triple jump (33-11¼); and Amelia Burgess finished 11th in the discus (105-11).
"The kids did well and should be proud," coach Bill Masei said. "It was a good weekend for Dallas track and field."
For the athletes competing, state brought excitement, nerves and a wide range of emotions.
"It was difficult knowing it was my last time jumping," Sayer, a senior said. "Everything is running through my head, but it's an honor to be here."
For Aaron, a senior, who competed at state for the third time, the moment was just as magical as the first time he stepped onto Hayward Field.
"It's really fun," Aaron said. "It's just this crazy experience. Track has always been my sport, the thing I've been best at. Being here three years in a row and being around these athletes is amazing."
He said sharing the moment with his father/coach Jason White made the moment even more special.
"My favorite memory is having my dad as my coach," Aaron said. "He's someone who knows the sport and it's a special relationship."
Aaron and Deming weren't the only pair to share state together. Webb and Tallon competed together one last time in the 100 hurdles.
"It means more to us because it's our last year," Webb said. "We've been playing sports together since, like, sixth grade."
Even the way they finished was symbolic of the friendship they've shared through the years.
"How funny that we ended up going out the way we came in — nice and close," Tallon said.