Pull off Highway 22 at the Dallas exit. Drive through the picturesque farmland into town — and stay a while in Dallas.
Welcome to Dallas
Population: 14,583.
Elevation: 325 feet above sea level.
City Hall: 187 SE Court St., 503-623-2338,
Visitor Services: Dallas Area Chamber of Commerce/Dallas Area Visitors Center, 168 SW Court St., 503-623-2564.
Schools: Dallas School District — Lyle Elementary School (K-3), Oakdale Heights Elementary School (K-3), Whitworth Elementary School (4-5), LaCreole Middle School (6-8), Dallas High School (9-12), Morrison Campus Alternative High School (11-12).
Parks:
• Dallas City Park — Dallas City Park is the largest park in the city at 35 acres. The "new" entrance is located on Levens Street near Lyle Elementary. The "old" entrance near the Delbert Hunter Arboretum is on Academy Street. The park has facilities for gatherings large and small, including two shelters, two fireplaces, numerous barbecue pits, horseshoe pits, basketball hoops, a disc golf course and paved trails.
• Roger Jordan Community Park — Located next to the Dallas Aquatic Center on Southeast LaCreole Drive. It consists of soccer fields, a baseball field, a skate park, two tennis courts, playground equipment, and a picnic area.
• Birch Park — Intersection of Birch and Stump streets. New playground equipment recently was added, and the park also has two basketball hoops.
• Gala Park — Intersection of Uglow Avenue and Hankel Street. It features a basketball court, playground and a grassy area with a gazebo.
• Kingsborough Park — 101 SW Wyatt St. It features lots of wide-open spaces as well as basketball hoops, walking paths and a playground. Restrooms are open during the summer.
• Rotary Park — 300 NE Fern Ave. The city has joined forces with the Dallas Rotary Club to upgrade the park with new playground equipment, walking paths and a basketball court.
• Walnut Park — 501 SE Walnut Ave. It is a small wooded area with a shaded creek and a bench.
• Central Bark — 920 SE Juniper St. behind the Dallas Aquatic Center. It is the only off-leash park for dogs. It has an enclosed area with a picnic table and water.
• Rickreall Creek Trail — The Rickreall Creek Trail will eventually nearly run the length of the city east to west following the course of its namesake creek. It has rapidly taken shape in recent years, with new sections added each summer.
• Sgt. Ian Tawney Park — Near the Rickreall Creek Trailhead off Main Street. It has a playground and lawn area.
"Expect to be treated well by the community," said Bonnie Dreier, the programs and events manager for the Dallas Area Visitors Center. "Dallas is a small town with a big-town heart."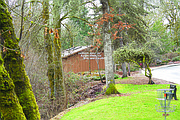 Downtown is beginning to awaken from a longtime slump, boosted not in small part by the renovation under way at the Blue Garden building on Main Street. Still a work-in-progress, the exterior upgrade turned an eyesore into an example of what can happen with investment and hard work.
Just down the block from Blue Garden is Pressed Coffee and Wine Bar, one of downtown's newest additions, and one of its most successful. Pressed hosts events nearly every night of the week, drawing people for food, fun, and a good coffee drink or cocktail.
Around the corner from Pressed is Dallas Cinema (formerly the Fox Theatre), which just finished a renovation and switched to the theater-pub model, serving wine, beer and an expanded menu.
Owner Jeff Mexico, who sadly had to close the popular Motor-Vu Drive-In in 2017, decided to channel his extra time into improving the downtown theater.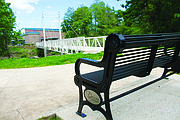 "With the drive-in closed, I've got more time to concentrate on this, get it where it should be, and get more people in the doors," Mexico said.
Dreier said people should spend some quality time just walking and browsing stores. She said there are now plenty of places to find birthday gifts and surprises for every holiday in the antique and variety shops, including the newly opened Dallas Emporium.
"I would tell people to be open-minded and go shop-to-shop," she said. "Plan on eating here, browsing and discovering."
It doesn't hurt that Dallas knows how to throw a celebration. Several of them dot the calendar.
Of those events, you will find none bigger — this year, at least — than 2017 Great American Eclipse on Aug. 18-21.
Summerfest, Dallas annual community showcase, is scheduled for July 27-30 in 2017, with the eclipse-centric theme of, "A Space Adventure."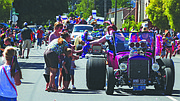 It features one of the biggest small-town parades in Oregon along with a collection of artisans, food vendors and live entertainment.
Interest in buying from local producers is best exemplified in Dallas' weekly farmers market, Polk County Bounty Market, open Thursdays from May to September.
You can grab a blanket or lawn chair and head down to the Sounds of Summer concert series.
If bundling up and enjoying a cup of hot chocolate is more to your taste, come check out Winterfest, the kickoff to Christmas.
Not to be left out of the area's July Fourth activities, Dallas introduced a new event in 2013, Freedomfest. This year, the event has a hometown barbecue contest, a beer garden, live music and fireworks on tap.
All that activity hasn't changed something else the Dallas residents are proud of: Its "hometown" feel. That's what Samantha Burns, a volunteer with the Dallas Area Chamber & Visitors Center, said is the most charming thing about Dallas.
"I like it because it is small," Burns said. "It's not Portland or Keizer. You can go for a walk and everybody waves at you."