FALLS CITY — Leon Beauchamp, a longtime volunteer firefighter with the Falls City Fire Department, remembered a call when he and one other guy were the only people available to respond.
They went to the station and waited for others to arrive, Leon recalled. When it was evident that no one else was coming, they looked at each and asked: "What do you want to do?"
"Well, if we are going to do anything, let's go do it," he remembers saying. "Nobody else showed up, so we had to go do it."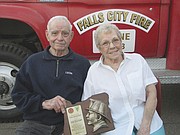 The call was for a burn pile that drifted out of control. The pair put it out and went back to their day.
For a town like Falls City, that kind of dedication is needed — and that's what kept Leon going for 51 years as a volunteer in various capacities. He said there were maybe 10 or 12 volunteers when he started in 1966.
"It was doing something," Beauchamp explained. "Back then, it was a small department."
Last month, Leon retired from the department.
Department spokeswoman Megan Sykes said the he is the longest-serving volunteer, and the department made him an honorary lifetime member — a first for Falls City Fire.
Leon was talked into joining the department by a friend in January 1966.
Leon's wife, Alice, remembers the scene clearly.
"He came up in the evening, and he sat there and said, 'Come on, let's just join the fire department,'" she said. "He (Leon) was just sitting there holding a baby in his lap and finally said, 'OK. OK. I'll try it.'"
He didn't just try it. Leon became a fixture for the department.
He remembers his first — and only — forest fire.
He said that was when he realized the danger of wildland firefighting.
"The first big fire I went to was a forest fire up by Dutch Creek, just outside of town a little ways," Leon said. "Three of us guys went up the end of Parry Road and down a canyon toward Black Rock Road, and the fire jumped over our heads down to the canyon ahead of us."
They were supposed to scout the fire and radio back the location, but they were surprised by how it was moving and found themselves in danger. The guys he was with, understandably, decided to retreat to a safer spot. Leon had contracted polio when he was younger, so he couldn't move as fast and was left behind.
"I had to go the long way to get past the fire line," he said. "When I got back down to Black Rock Road, the fire chief back then grabbed me by the collar and put me in his rig and then read me the riot act. He never wanted to see me on a forest fire again. I didn't know the situation I was in. I didn't even know what forest fires were in those days because back where we're from, they didn't have such a thing."
"We lived in the prairies. We didn't have trees," Alice explained.
That fire eventually blew itself out, Leon said. He believes the town was lucky.
"If it had made that first canyon, it would have been in town," he said. "It was something interesting because, like I said, it was all new to me at that time."
Alice said she was afraid for Leon on that call.
"It looked worse than it was because it was all smoke," she said. "We were smoked in."
She added the fire department training and meeting became Leon's social life. He wasn't one to "go out with the boys," she said.
In addition to firefighting duties, Leon helped maintain the department's equipment and engines. The crew has been successful in that mission. There's a 1965 truck on the fleet that's been with the department longer than Leon by almost a year.
About 30 years ago, Leon took the role of treasurer for the department and eventually switched to a support role on calls.
Though Leon is experiencing physical limitations that prompted his retirement in April, he isn't complaining, and he looks forward to attending fire board meetings.
"Life has been real good to me, all the way through," he said smiling.
Alice added her husband's dedication — and patience and attitude toward life — sets him apart.
"I'll tell you this, he's probably one man in a million. There ain't nobody like him," she said, smiling. "My mother used to say, when they made Leon, they threw away the pattern."