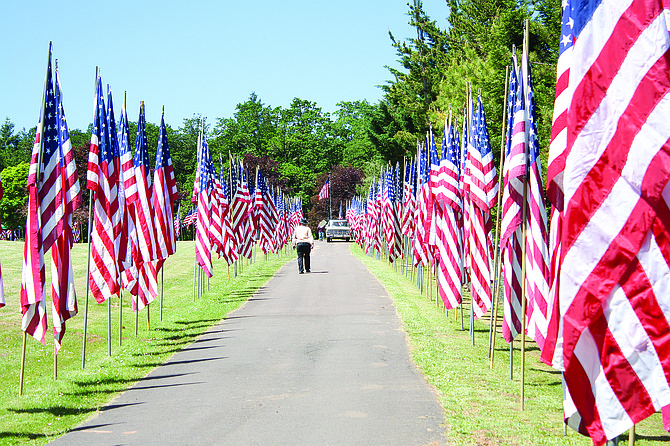 Junior MG Camp registration open
Registration is open for the Junior Master Gardener Day Camp, held June 28-29 in Monmouth from 9:30 a.m. to 2:30 p.m.
The two-day program is sponsored by OSU Extension 4-H, Oregon 4-H Foundation and Monmouth Recreation.
The camp is open to students in kindergarten through fourth grade. Cost is $20 if registered by June 5 and $30 after June 5. The camp is open to both 4-H members and nonmembers.
To register: extension. oregonstate.edu
For more information: 503-623-8395.
Free camping for State Parks Day
The Oregon Parks and Recreation Department invites the public to stay and play for free to celebrate State Parks day on Saturday.
Camping will be free on Saturday night in all recreational vehicle hookup sites, tent sites and horse camps.
Day-use parking will be free Saturday and Sunday at the 26 parks that charge a day-use fee.
People can reserve spots online at www.oregonstateparks.org or by calling 800-452-5687. Reservations must be made by 5 p.m. Friday. Reservations will still include an $8 non-refundable transaction fee.
Several parks will be holding special events on Saturday.
Latino forum coming Tuesday
The public is invited to attend a forum Tuesday from 9 to 11 a.m. at the Independence Civic Center, 555 S. Main St., Independence. The forum will discuss targeted marketing and outreach efforts for the Latino community in Polk County.
There is no cost to attend.
A survey is available on what your program/agency is already doing in regards to outreach to the Latino community at www.surveymonkey.com/r/C67KVRF.
The survey will also serve as an RSVP for the meeting.
For more information: Brent DeMoe, demoe.brent @co.polk.or.us.
Arboretum seeks evening volunteers
The Delbert Hunter Arboretum will hold evening volunteer hours on the second Monday of the month June through September.
Volunteers are needed to maintain the park.
The volunteer evenings will be held from 6 to 7:45 p.m. on June 12, July 10, Aug. 14 and Sept. 11.
Gloves are recommended. Tools will be provided.
For more information: Kimber, 503-623-7359.
Oregon Health to sponsor workshop

The Oregon Health Insurance Marketplace will sponsor a free, two-hour workshop titled "Building Blocks of Health Insurance" Thursday from 5 to 7 p.m. at Dallas Public Library, 950 Main St.
The workshop will cover topics including types of health insurance, summary of benefits documents, explanation of benefits letters, and eligibility for financial assistance.
There is no cost to attend.
To RSVP, 855-268-3767 or email to info.marketplace @oregon.gov.
Dementia care solutions offered
Joyce Beedle, RN, BSN, will give a free presentation on real solutions in dementia care Thursday from 1 to 4 p.m. at Independence Civic Center, 555 S. Main St., Independence.
Beedle has more than 35 years of professional experience.
To register or for more information: Ladena Borchers, 503-304-3429 or Amy Crevola, 503-66-7620.
Refreshments will be served.

More like this story