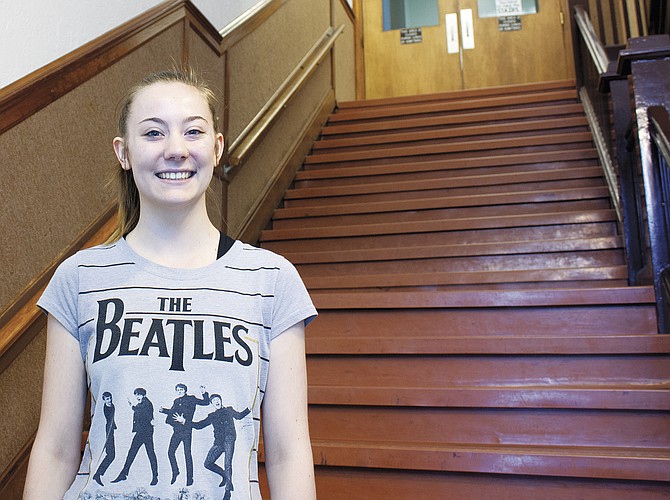 FALLS CITY — Madeline Guiger was anxious to make a good impression in her new school when she enrolled at Falls City High School as a junior.
Previously home-schooled, she didn't want to stand out too much.
"I was trying so hard because I didn't want to be the weird home-school kid. But I was, though. That was who I was, and people accepted me anyway," Guiger said. "That's another reason why I knew Falls City was the right choice for me."
Guiger will graduate from Falls City High School Friday, ending a short, but key part of her education thus far.
"I transferred in because one of our teachers, Mr. Ellingson, he actually was a member of my church," she said. "He's the one who told me about Falls City and convinced me that I should transfer out here."
She's glad she took his advice.
"Education-wise and community-wise, it was just a great place," she said. "I'm really grateful for all the opportunities I've gotten to have here."
Guiger joined music classes, helped to put on school concerts, and took the leadership class while at Falls City High. A ukulele, guitar, and piano player, as well as a singer, music classes developed her interest in music, something she will pursue further in college.

She said she will take another lesson with her from Falls City: The value of hard work.
"We talk about a lot about the quality of grit here at Falls City, that perseverance for long-term goals," she said. "There are going to be days that you don't want to do things and you are just tired and feel worn out. You just have to be keep going, and it will pay off in the future."
Guiger said her time in Falls City made her into someone who wants to keep learning.
"You going to have to do things that don't make sense, like learn things in algebra that you think you are never going to use later in life — and a lot of it you probably won't — but you have to get that skill of how to learn. To be teachable, that's a really valuable skill in life," she said. "It doesn't stop after high school. It doesn't stop after college."
Guiger is enrolled in Northwest Christian University in Eugene, where she will major in communications and be part of the choir. She said she wanted to attend a Christian school, and NCU rose to the top of those colleges she explored in Oregon.
She wants to work for a nonprofit organization once she graduates and thought a communication degree would give her an array of skills and the flexibility to adapt to what a nonprofit might need, such as fundraising and applying for grants.
With only a few days before graduation, Guiger said she's beginning to realize how much she's going to miss Falls City.
"That's the hardest thing for me because I've never had the type of friends I've had here at any other school or place I've been," she said. "I'm also just terrified of having normal teachers. I love just how out-there the teachers are and how personal their relationships are to every student. I think that is what I will miss the most."
Guiger said she attended public school for part of elementary school, briefly at a private school, and was home-schooled, but it's her experience at Falls City that has made the most impact. She said she's grateful to her parents, friends and teachers and staff at the school for that.
"Nothing has been the same as Falls City," she said. "I want to thank everybody in my little bubble who has helped me get where I am today."