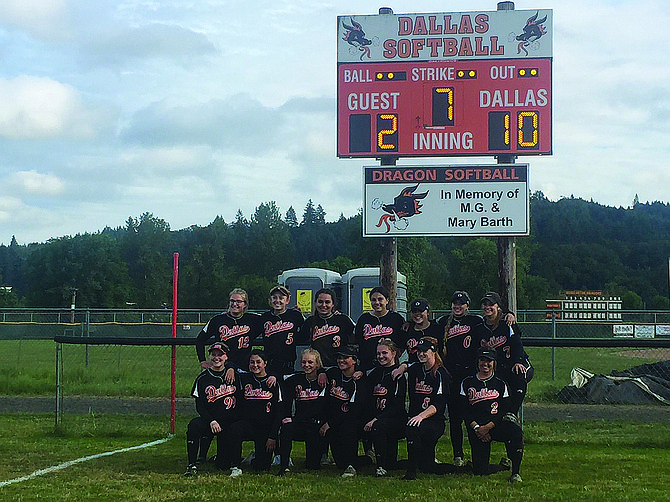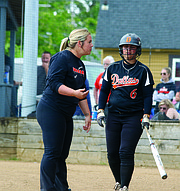 DALLAS – The Dragons are one game away from bringing home a state title.
No. 1 Dallas rallied for a 10-2 victory over No. 5 Silverton in the state semifinals on Tuesday to advance to the championship game Saturday at 1 p.m. at the Oregon State University Softball Complex.
The score may have ended up lopsided, but the Foxes gave the Dragons all they could handle early on.
Silverton jumped out to a 1-0 lead in the first inning and added a second run in the top of the third.
"(Pitcher Kaelynn Simmons) was a little nervous and rightfully so," coach Brandi Jackson said. "We're in a game to make it to the championship. She just needed to settle down, and you can see what she does when she settles. The defense made some mistakes we aren't used to making and, as a pitcher, you try to do it all."
The Dragons' defense came up with a few big plays early on to limit the damage.
Dallas allowed one run in the first inning as Silverton left the bases loaded.
In the second inning, outfielder Ashlee Lichtenberger ended the inning after she threw a runner out at home.
"We take pride in our defense," Jackson said. "The outfield has come through for us in very close situations. Without those plays, momentum would have been in their dugout and we might not have come back from that."
Entering the bottom of the third, Dallas found itself behind 2-0. That deficit wouldn't last long.
Jayden Wynia scored from second on an error, and an RBI single from Jordan Dippel tied the game at 2-2.
In the fifth, Dippel hit an RBI triple to put Dallas up for good. An RBI single from Simmons and a sacrifice fly from Emma Classen gave the Dragons a 5-2 lead – but Dallas wasn't done yet.
Five runs in the sixth inning gave the Dragons more breathing room.
"We found our confidence and knew that this is how we play," Nelson said. "We found our zone and went off."
Nelson finished with three hits and one RBI. Simmons added two hits and three RBIs.
After the final out was secured, the celebration was on.
"It's amazing," Lichtenberger said. "It feels like a dream."
The dream isn't over just yet.
Dallas will face No. 2 Marist Catholic in the championship game.
"This is all you hope for throughout your high school career – to get there and win, hopefully," Olivia Nelson said.
Marist Catholic defeated No. 15 Hermiston 9-1 in the first round, No. 7 Putnam 6-1 in the quarterfinals and No. 3 Pendleton 6-5 in the semifinals.
"We're going to get back to work today," Jackson said. "Win or lose, we have one more game. … These kids, I don't believe anyone deserves this more. They've worked so hard. I couldn't ask for a team with better heart or drive to go to a championship."
Follow @PolkIOSports on Twitter for updates on Saturday's game. Check www.polkio.com and the I-O's Facebook page for results and a story on the game.