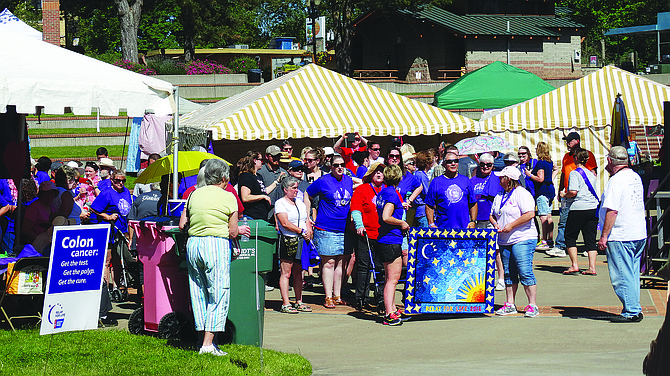 DALLAS — Tami Bookey-Kuhlmann says it's rare that she meets someone who hasn't had cancer or knows someone who has.
Fight Cancer
What: American Cancer Society Relay for Life Polk County.
When: Saturday and Sunday, 10 a.m. to 10 a.m.
Where: Dallas High School track.
Of note: The event is open to the public. Registration begins at 9 a.m. Saturday.
That is the reason she took over as American Cancer Society's Relay for Life Polk County's chairwoman.
"Once you get involved, it does become a passion and it's meaningful," she said.
Polk County's 24-hour relay event is Saturday to Sunday, 10 a.m. to 10 a.m. at the Dallas High School track. This year, the event is Disney-themed, "The Magic of Relay."
It's open to the public, and you don't have to be on a team to attend.
"A lot of times, first-time relayers have an experience and they get involved again, and they keep coming back," she said. "It's hard to meet somebody that hasn't been touched by cancer."
Saturday, 21 teams will hit the track to complete the fundraiser, which, as of Thursday, had collected more than $26,000 for the cause of fighting cancer. Bookey-Kuhlmann said fundraising continues through Sunday, and she's not certain where it will end up.
She added the community has contributed at least that much in sponsorships and in-kind support for the event.
Those who want to experience the purpose of relay but not stay for 24 hours, can attend the opening ceremony and survivor lap, starting a 10 a.m. Saturday.
"That's when survivors and caregivers get to go around the track and we get to honor them because they are the whole reason we do what we do," Bookey-Kuhlmann said.
Another meaningful part is the Luminaria Ceremony, during which the track will be lined with decorated Luminaria bags representing a cancer survivor, or someone lost to cancer. At 10 p.m., candles illuminate the bags in the darkness.
"Seeing the track light up with all those luminaria bags and having that touching moment when people are thinking about those they love who have survived cancer or that lost to cancer," Bookey-Kuhlmann said. "It's the most somber part of the event. It quiets down and everybody just has that moment when you walk around the track and you see the bag that has been decorated for your father, for your sister, for your best friend."
Those who attend have a delicious treat in store, with Mo's Restaurants bringing its food truck to sell its famous clam chowder and other items during relay.
Doc Titus will keep the teams going with entertainment during the events and participants can have fun with the Disney theme, including princess, hero, villain and fairy wand/glow stick theme laps.
This is Bookey-Kuhlmann's last year as chairwoman, so she hopes someone will be inspired to take the baton from her.
She said Polk County's event has a rich tradition, and is unique for staying a 24-hour event when other communities have switched to 18- or 12-hour events.
"There's not that many 24-hour events anymore," she said. "They've actually classified us as a heritage event. I'm pretty proud of that."