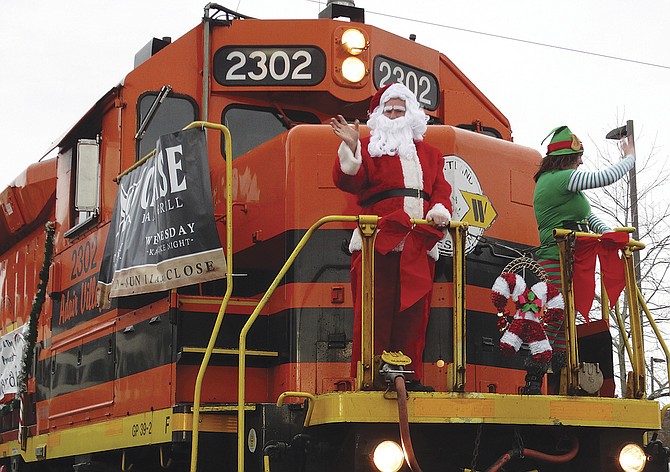 Santa Train to return to Independence
INDEPENDENCE — Traci Cathcart, of Famous Footwear, and the Portland & Western Railroad have teamed up to bring the Santa Train back to Independence at 1 p.m. on Dec. 2.
Because earlier reports were that the Santa Train had been cancelled, Toys for Tots did not have enough notice to get toys for children during the event. To donate, enter the Parade of Lights, or volunteer, contact Teri Gregson at acac7teresa@gmail.com.
At the event, the railroad will have a train-safety educational booth.
Pictures with Santa will be provided by the Independence Elks Lodge. Children may deposit letters to Santa in a special mailbox at the event.
After the annual Parade of Lights at 5 p.m. on Dec. 2, an after party for the whole family will be held at the Elks Lodge.
Dallas wrestlers sell poinsettias
DALLAS — The Dallas High School wrestling program is taking orders for its annual poinsettia fundraiser.
Poinsettias come in sizes 6.5-inch for $15 and 8.5-inch for $20. Small sizes come in red, white, pink and jingle (variegated colors).

Large poinsettias come in red, white, pink and burgundy.
Orders are taken until Nov. 19, and will be delivered starting on Dec. 5.
Call Kerri to place your order, 503-779-8485.
Extension Service to hire director
POLK COUNTY — Oregon State University Extension Service posted the job announcement for the West Central Regional Director.
The West Central Region includes Polk, Benton, Lane, Linn Marion and Yamhill counties.
The job announcement closes on Nov. 17.
For more information: http://jobs.oregonstate.edu/postings/51076.
The posting number is: P0168UF.
Livestrong to come to MI YMCA
INDEPENDENCE — The Monmouth-Independence Family YMCA will begin offering Livestrong at the Y, a research-based physical activity and well-being initiative that helps people affected by cancer reach their holistic health goals.
The program will begin on Nov. 13, and will be available to cancer survivors in the Polk County community, Mondays through Fridays from 10:30 a.m. to noon.
Classes are offered at no charge for the 12-week session.
As part of Livestrong at the Y, employees will engage cancer survivors through an approach that focuses on the whole person.
Participants work with trained Y staff to build muscle mass and strength, flexibility and endurance, and improve functional ability.
In addition to physical benefits, the program focuses on the emotional well-being of survivors by providing a supportive community environment where people affected by cancer can connect during treatment and beyond.
The program is a collaboration between the YMCA of the USA, the national resource office for the Y, and the Livestrong Foundation.
For more information: Nekole Baurer, community health director, 503-399-2770, or nbaurer@theYonline.org.
Polk No. 1 teaches fire prevention
MONMOUTH/INDEPENDENCE — Polk County Fire District No. 1 personnel conducted fire prevention presentations throughout Monmouth and Independence during the month of October.
This year, Polk County Fire District members conducted many fire safety presentations to 370 students in the Monmouth and Independence area to help teach fire prevention and what to do in case a fire begins to break out.
Presentations were made at Ash Creek, Independence and Monmouth elementary schools, focusing on kindergarten students through second-graders.
Presentations were also given to a variety of day care, pre-school and private schools.
Some of the topics the students learned about were:
• How Firefighters put on their protective clothing and SCBA's
• Tools and equipment carried on fire engines
• Stop, Drop and Roll
• Check doors for heat
• Never breathe smoke
• The importance of home evacuation plans and having a family meeting place
For more information on fire safety: polkno1.org.