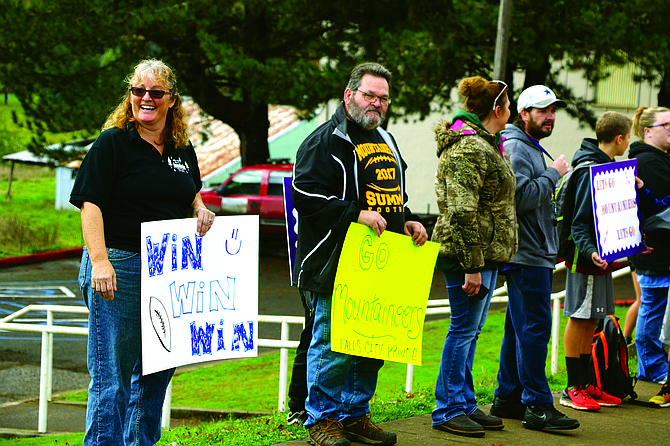 Take a test drive, benefit DHS
A "Drive 4 UR School" event will be from 10 a.m. to 5 p.m. on Friday at Dallas High School.
For every test drive, Mid Valley Ford will donate $20 to DHS. To reserve a specific time slot or for more information: 503-831-1976.
Central students serve seniors
Central High School students will host the annual Thanksgiving Luncheon for senior citizens in Monmouth and Independence at noon on Nov. 22 at the school's cafeteria.
Students will serve a full turkey dinner with all the trimmings, provide live music and entertainment, and conduct a gift raffle. The event is free.
Dallas seniors jam gospel music
The Dallas Area Seniors will host a jam session Thursday at 6:30 p.m. at the Dallas Senior Center, 955 SE Jefferson St., Dallas.
This month's theme will be a Gospel Jam. There is no cost to attend. Local musicians are invited to participate, but the public is also welcome to enjoy the music.
WOU to host student recital
Western Oregon University will host a student recital Thursday at 11 a.m. at Smith Music Hall, 345 Monmouth Ave. N, Monmouth.
There is no cost to attend.
Students will play a variety of instruments and genres.
Know Your Rights seminar offered
The Polk Rapid Response Team will offer a free program about knowing your rights at the Henry Hill Center, 750 5th St., Independence Saturday from 2 to 6 p.m. There is no cost to attend.
Declutter Your Life at public library
Monmouth Public Library, 168 Ecols St. South, Monmouth, will host Declutter Your Life Thursday at 6 p.m. The topic will be "Emotional Aspects of Letting Go: Why Can't I do It?"
There is no cost to attend.
For more information: 503-751-0193.
YMCA to celebrate new location
The Monmouth-Independence YMCA will celebrate the grand opening of its new location at 870 N. Main St., Independence, Thursday from 5 to 7 p.m.
There is no cost to attend.
Tacos will be served and there will also be music.
For more information: Natascha Cronin, ncronin@ theYonline.org.
Dallas Library to host author Starck
The Dallas Public Library, 950 Main St., Dallas, will host local and award-winning poet Clemens Starck Friday at 7 p.m.
His book, "Journeyman's Wages," received the William Stafford Poetry Award from the Pacific Northwest Booksellers Association.
He received a scholarship from the Breadloaf Writers Conference, a year-long residence at the Helene V. Wurlitzer Foundation of New Mexico and the Witter Bynner Fellow and poet-in-residence at Willamette University.
Other works by Starck have been finalists for an Oregon Book award. Starck has also worked on a ranch in Eastern Oregon, a reporter on Wall Street, a merchant seaman and more.
There is no cost to attend.
For more information: 503-623-2633.
Rev. Gordon speaks at Woodland
Rev. Dr. Kenn Gordon will speak at Woodland Chapel's 60th birthday celebration Friday evening at 582 High Street SE, Salem. The event begins with an open house at 5 p.m. Gordon will also speak at the regular Sunday service at 11 a.m.
There is no cost to attend.
For more information: 503-362-4139.
More like this story