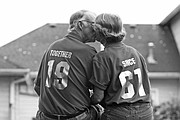 Larry and Nancy will celebrate their 50th anniversary with renewal of their wedding vows on Nov. 25 at the church where they were married; the Community Church of Poway. They will be attended by their original Matron of Honor, Cheryl Brown, and Best Man, Bob Guy, and surrounded by several family members, including their oldest son, Todd, from St. Louis, Mo., their granddaughter, Ariel, and her husband, Nick Wilson, of Salem, their grandson, Carter, and his mom, Renee Wilson, both from Dallas.
Larry retired in 2009, as an engineer from Quest, after more than 50 years of working in three states and for several variations of Ma Bell. Nancy retired in 2012, as a physical therapist assistant from Salem Health West Valley Hospital.
They both are volunteers at Salem Health West Valley Hospital, driving the Connections Van. They have enjoyed traveling, including a 34-state, eight-week road trip across the USA. Winter usually finds them flying to find sunshine, especially Maui. But summer finds them tending their garden and spending most Saturdays at a car show with their 1935 Chevy, a project that took a "village" and 10 years to restore, and Nancy has taken pictures of all of the above.
Following the vow renewal, the couple plan a night in Catalina then to Disneyland and San Francisco. They will be home in time to welcome everyone to an open house on Dec. 9, hosted by Ariel, Nick, Carter and Renee Wilson. It will be held at 705 SE Walnut Ave., in Dallas. Light snacks and beverages will be available from 2 to 5 p.m. Please come by and share the happiness. In lieu of gifts, consider an ornament to go on the Golden Anniversary Tree.
More like this story