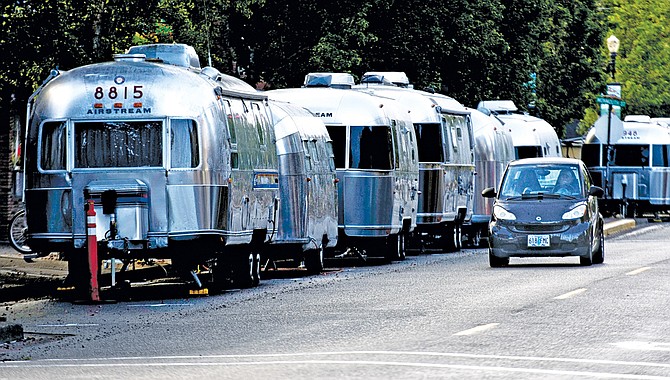 John Doan to perform Sunday
John Doan will perform at Trinity Lutheran Church, 320 SE Fir Villa Road, Dallas, Sunday at 6:30 p.m.
Admission is by suggested donation of $12 for adults and $10 for seniors and children.
Doan will perform his "Beyond Six Strings — 20 strings of magic" program.
Doan will play the 20-string harp guitar and was recently awarded the International Brand Laureate Award for "World's Leading Harp Guitarist."
For more information: 503-949-5653 or www.dallastlc.org.
Sons of Norway to host craft night
The Thor Lodge of the Sons of Norway will host a craft night celebrating Norwegian heritage Saturday at 6:30 p.m.
The event will be held at the West Salem Masonic Lodge, 1625 Brush Road NW, Salem.
A brief meeting will be held followed by a finger food potluck dinner. Crafts will be simple to complete, and the event is child friendly. There is no cost to attend.
For more information: 503-302-7973.
Country dance returns Saturday
The Guthrie Park country dance returns Saturday from 7 to 9:30 p.m. at the Guthrie Park Community Center, 4320 Kings Valley Highway, Dallas. Cost is $5 per person. A $15 family rate (immediate family only) is available. Children 12 and younger are free. No experience necessary.
For more information: 503-623-0809.
M-I Food Project pickup on Saturday
The Monmouth-Independence Food Project will have a food pick-up day on Saturday.
The Food Project seeks long-term food donors. Neighborhood coordinators enlist the help of neighbors to donate a bag of food every two months. The Food Project supplies the bags and picks up the food.
For more information: www.monindyfood project.com.
Fall Doll Show returns Saturday
The 15th Fall Doll Show and Sale returns to the Polk County Fairgrounds on Saturday. Vendors will feature a variety of dolls, including antique, vintage, modern, and collectible dolls.
Early bird admission is $8 at 9 a.m. General public hours are 10 a.m. to 4 p.m. with a $5 admission. Kids 10 and younger are free.
The Wagon Wheel Doller Doll Club sponsors the sale. Proceeds are donated to the Humane Society, Union Gospel Mission, Women's Crises Center and Marion-Polk Food Share.
For more information: Sally, 503-399-7679.
Brasil Band teams up for concert
The Brasil Band and Choro das 3 will team up for a concert Friday at Smith Music Hall at Western Oregon University.
Choro das 3 is a family-based band composed of three sisters and their father. The band has performed in the U.S., Mexico, Brazil and France.
Cost is $8 for adults; $5 for students and seniors; WOU students with a WOU ID are free.
For information: www.wou.edu.
Class features Halloween wreaths
The Second Saturday Art Class returns Saturday from 2 to 4 p.m. at the Ash Creek Arts Center, 311 S. Monmouth St., Independence. It will feature Halloween wreaths with Anna Cottom.
There is no cost to attend. All ages are welcome, but participants should be able to work with basic art supplies, including scissors.
For more information: www.ashcreekarts.org.
Space is limited for teen aviation
A free teen aviation weekend will be held Oct. 21 and 22 at Independence State Airport, 4803 Airport Road, Independence.
The event will run from 8:30 a.m. to 4 p.m. each day.
The two-day workshop will feature classes on aerodynamics, the physics of flight, aviation weather and careers in aviation and aerospace, hands-on activities, flying a simulator and RC model flight simulator, building a key fob using aircraft materials and, weather permitting, students will go on a flight in a light aircraft.
Space is limited to 20 participants with 10 spaces filled.
Participants should bring a sack lunch. Beverages and snacks will be provided at the event.
For more information: 503-364-3619.
Altar Society to host Fall Bazaar
The Altar Society of St. Patrick's Catholic Church, 1275 E St., Independence, will host its fall bazaar from 9 a.m. to 3 p.m. on Saturday.
A soup and pie lunch will be served. Garden produce, baked goods, white elephant items, arts and crafts will be for sale. Several items will be raffled. Proceeds go to purchasing items used on the altar.
More info: 503-838-1242.