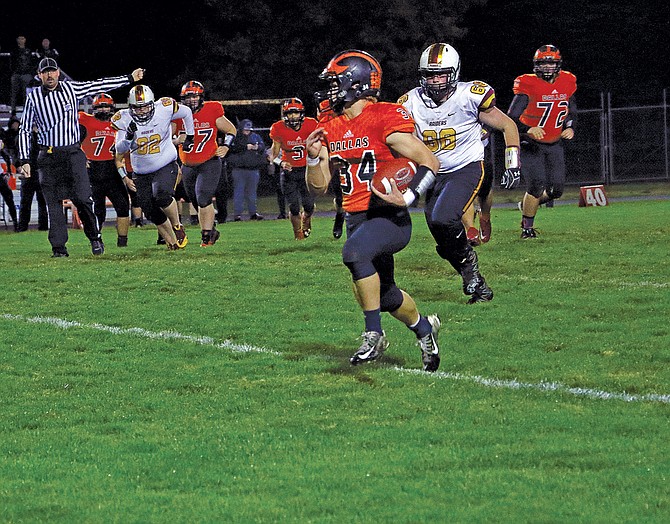 DALLAS — Dallas' football team took an early lead against Crescent Valley, but the Raiders earned a 31-21 victory over the Dragons on Friday.
A 6-yard touchdown run by Tristan Evans gave Dallas a 7-3 lead late in the first quarter, but Crescent Valley quarterback Sawyer Cleveland hit Briley Knight for a 27-yard touchdown to put the Raiders back on top 10-7. Knight's second touchdown of the game put Crescent Valley up 17-7 in the second quarter, but a four-yard touchdown run from Brycen Grillo pulled Dallas to within 17-14 at the half.
The Raiders scored the first two touchdowns of the second half, both passes to Talanoa Hufanga, to go up 31-14 in the fourth quarter.
Dallas quarterback Jaret Stewart hit tight end Treve Earhart for a 50-yard touchdown with 2:30 left in the game to pull within 31-21.
The Dragons (2-6 overall, 0-5 Mid-Willamette Conference) plays at Lebanon to close out the season Friday at 7 p.m.
VOLLEYBALL ADVANCES TO PLAY-IN: Dallas' volleyball team advanced to the state play-in round. The Dragons defeated Woodburn 25-10, 25-7, 25-12 on Oct. 17 and South Albany 25-12, 25-15, 25-13 on Thursday to finish the regular season with a 14-10 record overall and 8-6 mark in league play, good for fifth place.
Dallas played Crater Tuesday after press time in the play-in round. The winner advances to the first round of the state tournament Saturday.
For updated results, check www.polkio.com.
GIRLS SOCCER DROPS TWO: Dallas' girls soccer team lost a pair of league matches last week. The Dragons lost to Central 8-0 on Oct. 17 and Woodburn 8-1 on Thursday. Dallas (0-11 overall, 0-6 MWC) closed out its season by hosting South Albany Tuesday after press time.
BOYS SOCCER LOSES TWO: Dallas' boys soccer team lost to Central 5-1 on Oct. 17 and Woodburn 6-1 on Thursday. Michael Davison scored the Dragons' lone goal against the Panthers, while Caleb Kiner scored against the Bulldogs.
Dallas (2-10 overall, 1-5 MWC) played South Albany Tuesday after press time.