Dallas school holds Make-a-thon
DALLAS — LaCreole Middle School in Dallas hosts an all-day Make-a-thon on Nov. 4, which focuses on learning about programming electrical circuits — and using the skill.
Anyone is welcome to join the event, which starts at 8:30 a.m. and ends at 3:30 p.m.
Supported by Innovate Oregon and SparkFun Electronics, this event will bring together students, teachers and industry professionals from Dallas to spend a day learning about and creating solutions with electronic circuits.
The morning session will teach the basic of programming. In the afternoon the class will break into teams to use the skills learned earlier to solve a real-world problem.
Teams present their prototypes during a showcase session at the end of the day.
To sign up for the make-a-thon and learn about make-a-thons in other communities, go to: https://spark.adobe.com/page/BXURNTY7sX3zY/.
Pedersen named Distinguished Educator
DALLAS — Candi Pedersen, third grade teacher at Lyle, is September's Distinguished Educator for Dallas schools.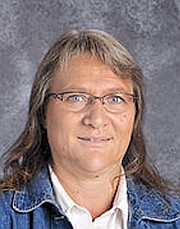 Heidi Clegg, parent of a former third-grade student, nominated Pedersen.
"She takes each student under her wing and helps them achieve goals they themselves don't think they can," Clegg said of Pedersen. "She never gave up on my daughter who was having a very hard time reading and comprehending."
Pederson colleagues shared more observations, saying she "has such a heart and empathy for her students," and "she prepares her students for the real world."
The Distinguished Educator program recognizes "excellence in teaching and learning" in Dallas School District Schools.
Chemeketa makes list for Aspen prize
SALEM — Chemeketa Community College has been invited to apply for the Aspen Prize.
Every two years, the Aspen Institute evaluates nearly 1,000 community colleges in the U.S. to recognize high performing institutions, according to a Chemeketa Community College press release.
Chemeketa is on the Institute's list of 150 colleges eligible for the Aspen Prize and the only one in Oregon under consideration. The school serves Polk County and has a Dallas campus.
The Aspen Prize is an indicator of community college achievement. To do its assessment, the Aspen Institute convenes a panel of education experts and uses nationally available data on institutional performance, improvement and equity in student retention and completion.
Chemeketa plans to accept the Aspen Institute's invitation to apply for the prize. The Aspen Prize selection committee will select 10 finalists for site visits and further review. The finalist awarded the Aspen Prize will receive $1 million.
Arts and crafts market is at Western on Saturday
MONMOUTH — Western Oregon University will host an arts and crafts market Saturday from 10 a.m. to 2 p.m. in the Pacific Room at Werner University Center.
There is no cost to attend.
There are 32 vendors scheduled to attend, including local artisans and student vendors.
For more information: 541-992-8700.
More like this story