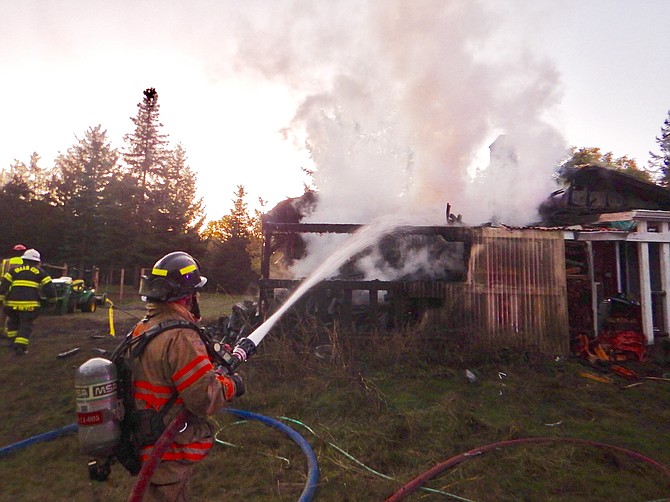 DALLAS — The Oregon State Fire Marshal's Office and Polk County Sheriff's Office are still investigating the cause of a house fire on Rueben Boise Road on Oct. 24.
The fire left two people displaced and the home with heavy smoke and fire damage.
April Welsh, Dallas Fire & EMS community service officer, said Monday that the two agencies were still in search of a cause. She said it's standard procedure to turn the investigation over to the fire marshal and local police agency if a cause isn't apparent to firefighters on the scene.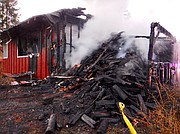 Firefighters were dispatched to the fire at 5:12 p.m. and arrived on scene in the 1800 block of Rueben Boise Road at 5:26 p.m., Welsh said.
"The house was about 50 percent involved when we arrived," Welsh said.
She said the residents of the home were trying to put out the blaze before fire crews arrived. The fire had moved to the attic, where it is more difficult to fight.
"Once the fire was in the attic space, we had to be more aggressive," she said.
Firefighters had the fire knocked down by 6:23 p.m., Welsh said.
No one was hurt in the fire.
Crews remained on scene for several hours afterward monitoring for flareups and putting them out, she said.
Thirty firefighters responded to the call from Dallas Fire & EMS, Southwest Polk, Falls City and Polk No. 1. Five water tenders — fire equipment carrying water — were used as there are no fire hydrants in the area, Welsh said.
Two people living in the home found temporary housing.
"They are not able to occupy the home," Welsh said. "It has heavy smoke damage and fire damage."