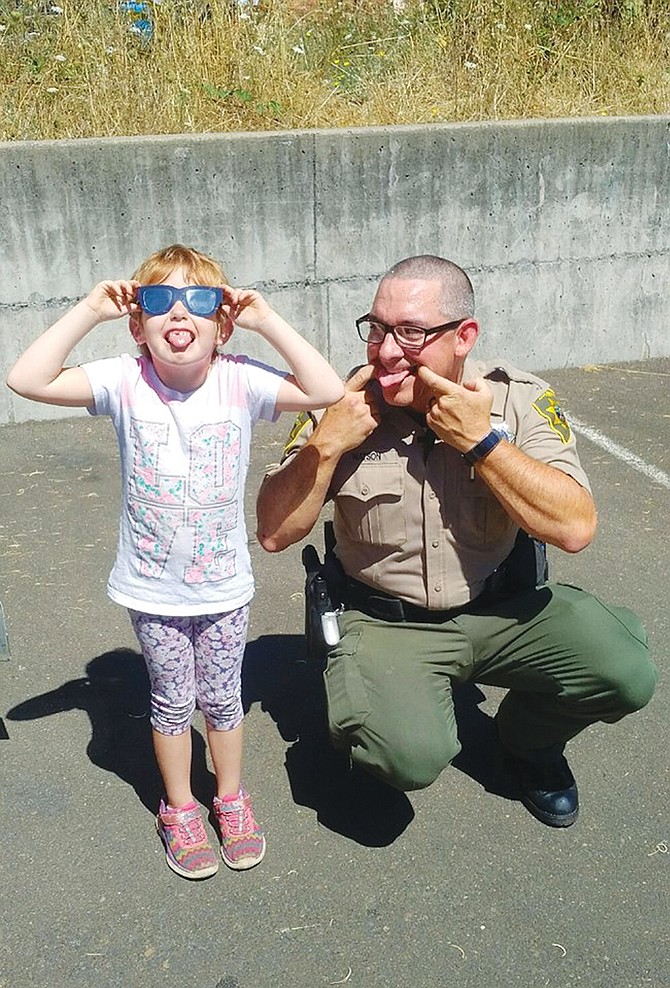 FALLS CITY — Polk County Sheriff's Deputy Marty Watson was at the ATM at Frink's General Store in Falls City in mid-August when he was approached by a nervous 6-year-old girl.
She had short reddish hair, freckles and just enough courage to reach her hand out to shake the deputy's hand.
"Thank you for protecting my community and my life," she said.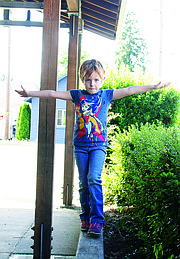 Just moments before, the girl, Trinity Markel, expressed fear of police officers, believing they had only one purpose: Arresting people.
"Are they going to arrest me, too?" Trinity asked her mother, Sarah Markel, after seeing Watson's patrol car while riding her bike down North Main Street in Falls City. "Because I'm a brat sometimes?"
Sarah explained police officers arrest people only when they've done something to hurt the community. Officers protect people, she told her daughter.
With this new perspective, Trinity decided to talk to Watson, who was getting cash so he could buy lemonade from another young girl who had set up a stand. Watson was busy looking for a suspect in a stolen-vehicle case and had a pile of work to complete during his shift that day.
His mind was occupied when Trinity offered her thanks.
"I thought, 'What a brave little girl.' You could see she was just scared and nervous," Watson recalled. "It was about the darn cutest thing I had ever seen. It was one of those melt-your-heart kind of moments. It was really busy, and I was kind of stressed about all the stuff that I had to take care of that day. It really was so uplifting."
Watson put his day on hold for a minute to sit down and talk to Trinity.
"I asked her about what school she goes to and little things like that," Watson said. "Her mom was there the whole time. You could tell that her mom, Sarah, is just confident, poised — and after meeting her later, talking with her a little more — a really, really good mom."
Trinity said that her fear stemmed from portrayals of police officers she had seen on television. After her interaction with Watson, she's excited when she sees a Polk County Sheriff's Office car, always asking, "Is that Marty?"
"He was a nice person," Trinity said.
Sarah said she was saddened to see her daughter's fear of law enforcement and grateful for Watson's attentiveness to Trinity.
"I don't think any child should be afraid to go to the police if they need help," she said. "My grandmother was a member of the Marion County Sheriff's Office back in the '70s, and she really liked what she did. I'm very proud of the fact that she served her community, and I want the kids to have the same respect for that, and to understand that these are people we can go to if we need help."
Sarah wrote a letter to the Sheriff Mark Garton, thanking Watson for his kindness and for helping replace her daughter's fear with trust.
"Experiences we've had before with police officers in the town that the kids are from weren't always positive," she said. "They wouldn't wave the kids off or were rude in any way, they just weren't warm. They weren't very approachable. Deputy Watson, he smiled .and it was a genuine smile."
The sheriff's office posted the letter on Facebook on Aug. 24, along with photos of Watson and Trinity's second visit — during which he gave her eclipse glasses and let her run the siren on his patrol car.
Watson said he's been overwhelmed with the response.
"It's great, but I wasn't prepared for that, so much kudos being handed to me while there's a flood going on, the storm, and the huge fire in Brookings. Every available firefighter in the state is down there," he said. "If there is a hero in this whole thing, I think it's the mom. She's obviously doing the right things with her kids."