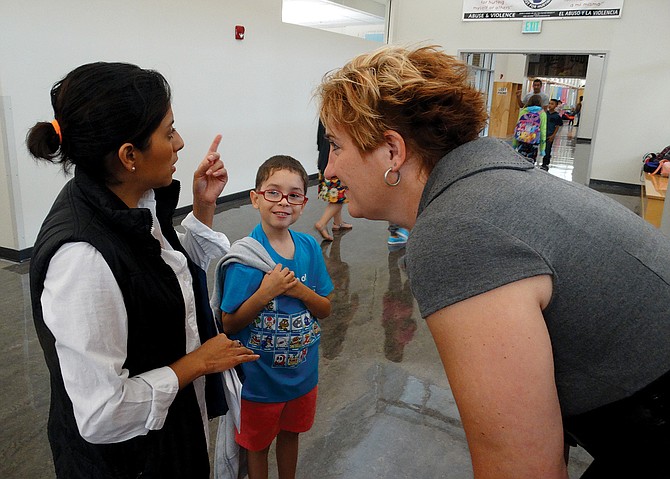 MONMOUTH — Students bustled through the halls of Ash Creek Elementary School on Tuesday morning with a certain excitement — it was the first day of the new school year.
Parents carried plastic bags filled with the needed supplies for their kids' classrooms and waited in line to find out what teacher would be spending the year with their child.
Superintendent Jennifer Kubista started her day at ACES, greeting children and parents as they made their way down the main hallway, complimenting them on their choice of apparel.
"That's a great T-shirt," she said to one student, whose shirt read, "Kindergarten stud."
Silvia Johnson, mother of Kirby Johnson, stopped to ask Kubista about Tuesday's schedule. With the heat wave in effect until 5 p.m. Tuesday, and smoke filling the air, Silvia wanted to know if school would be let out early.
Kubista assured her that, while morning recess could likely go on as planned, the kids would spend the afternoon inside out of the heat and smoke, but school would not be canceled early — at least that was the plan.
Kirby started his first day of second grade Tuesday. He said he was most excited about "learning new stuff."
In the cafeteria, students grabbed breakfast — some with their parents — before the first bell rang.
Kylie Johnson, starting fifth grade, told Kubista that she was looking forward to reading. She was already on the third book in the Replica series, which has 24 books in total.
Kubista, herself, skipped breakfast Tuesday. Even though she'd seen many first days of school, this was her first day of school as a new superintendent, and she was excited.
She spent the summer helping get ready for this day — sitting with teachers, students, staff and community members, listening to their concerns and learning.
ACES was Kubista's first stop, with plans to spend time at all of Central's schools throughout the day.
Though it's been a while since she was in elementary school, she said her favorite thing about school was the fresh start.
"Every time I walked through the doors, it's another year," she said. "I remember walking to my classroom to see what friends I have in my classroom. I'm an identical twin, so I knew I'd have my sister."