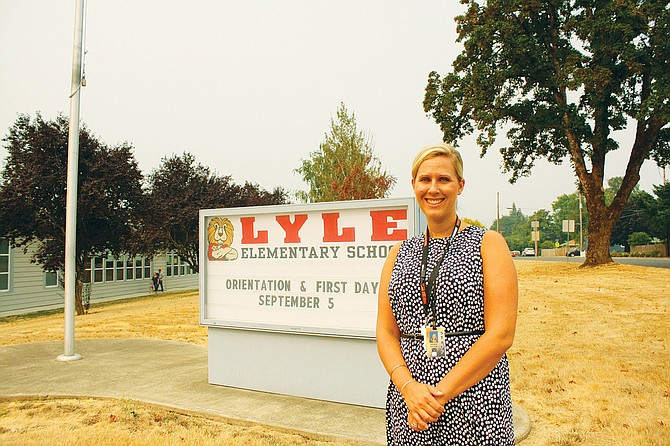 DALLAS — Amber Eaton, the new principal at Lyle Elementary School, is returning to what she considers her "roots" in her educational career.
For the last two years, Eaton has been an assistant principal at Dallas High School, but before becoming an administrator, she was an elementary school teacher.
"When I stepped out on my journey to become a principal — that was my goal to become a building principal," Eaton said. "I really wanted to return, sort of, to my roots."
Her detour through the high school wasn't the first in her career, or what she thought would be her career. Eaton has a degree in psychology, the field she originally wanted to pursue. After earning her undergraduate from Willamette University, she took a behavioral support position at an elementary school.
"I was working with elementary students and I loved it," she said. "I thought 'Huh. I think I want to be a teacher.'"
She had already applied to the master's program in psychology when she began contemplating teaching instead.
"I did a quick change and was accepted into Willamette's Master of Arts for teaching," she said. "I spent the time in elementary, and it was just the fit I was looking for."
While she considers elementary education her home base, Eaton said her experience at the high school helps bring an end-to-end perspective to her new role.
"My last two years have helped to bridge that understanding, so now I can see where we want our students to end up through this journey," she said. "Last year, I had the opportunity to do transitionary work. ... One week I was able to meet with the seniors to prep for graduation and meet our incoming kinders, so it was really powerful."
She said while the age difference in the students has to be considered, an educator's job is essentially the same at both levels.
"Our goal is to help them become that most successful adults that they can, and make sure that we're presenting them with all the opportunities for academic, social and emotional support," she said.
Eaton spent her summer dodging construction — which will continue after school begins — and meeting the Lyle staff.
"A lot of it has been thinking about our mission and vision here at Lyle and what I can do to best support what staff does every day, which is working with those kids," she said. "I'm available, so if people want to come in here and chat about what we are doing at Lyle and visit, I would love to have that happen, too."
Eaton said she's excited to take on her new challenge — and the construction frenzy in her building this summer allowed for some unplanned team building among Lyle staff. Last week started with no power to the building and limited use of bathrooms.
"It helps us growth together as a community because it gives us things to laugh about," Eaton said. "We have to make the most of what we were given. I was just so proud of everybody because they really rose to that occasion."