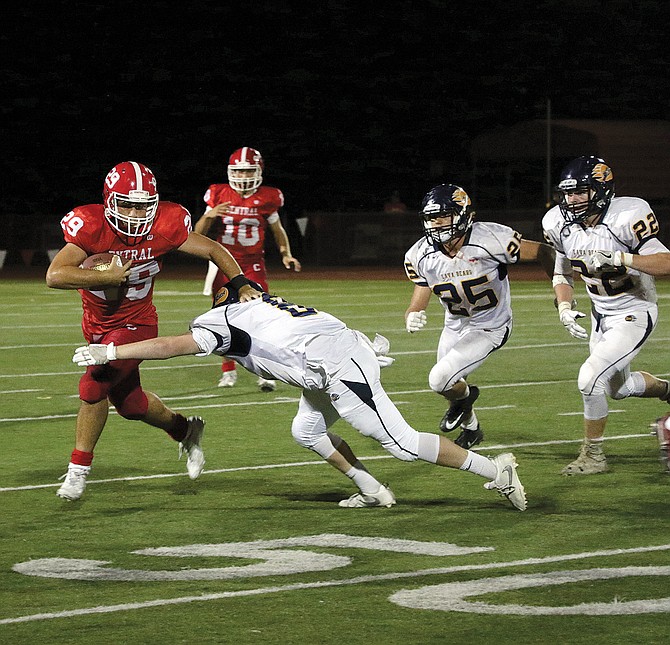 INDEPENDENCE — Senior Isaiah Abraham was itching to get on the field Friday night.
The wide receiver/defensive back missed much of the 2016 season due to injuries, but he was ready to contribute to Central's football team.
And contribute he did.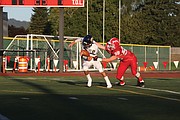 Abraham had one receiving touchdown on offense and two interceptions, including one returned for a touchdown, on defense, helping the Panthers to a 35-6 win over Bend on Friday night.
"It was just great to be back on the field again and play football," Abraham said. "We're a brotherhood this year. We play for each other."
Central controlled the game right from the opening snaps, blocking punts on each of Bend's first two drives. The first block set up a 6-yard touchdown run by Hunter Chase. Nikolai Wolfe returned the second block for a touchdown.
"I thought our defense and special teams played very well," coach Shane Hedrick said. "Xander Bailey, Caleb Sedlacek and Isaiah Abraham played at mid-season form. That's always exciting to see in your first game."
Quarterback Peter Mendazona hit Abraham for a 49-yard touchdown to put the Panthers up 21-0 in the first quarter, and the rout was officially on.
"We had a good run game going and that really opens it up for the wide receivers," Abraham said.
Mendazona hit Gabe Bergman for a 1-yard touchdown, and Abraham returned an interception 50 yards for a touchdown in the second quarter to give the Panthers a 35-0 lead.
"It was mostly about reading the opponents and watching a lot of film," Abraham said. "Then it's about getting into position to make a play."
Mendazona finished the game with 97 passing yards and two touchdowns. Chase had 15 carries for 93 yards and a touchdown, and Abraham had two catches for 79 yards and a touchdown.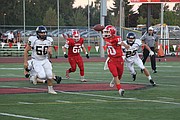 Junior Jesse Cable had eight tackles on defense, and Gabe Bergman and Xander Bailey each had two sacks.
"It's great (to get the win)," Mendazona said. "As a starting quarterback, I've never beaten Bend before. I lost my first year in Bend, and we lost last year at home. The defense looked real good and we had a variety of weapons on offense. Marcos (Cedillo) in our slot, he's a train and runs people over. Outside we have Isaiah and Jesse. Our starting running back, Hunter, he's developed well. He's a really good guy and he runs hard. Keegan, the guy right behind him, is good to give Hunter a break. We can be deadly."
Friday's game was originally scheduled to be played in Bend, but was moved due to poor air conditions.
"Offensively, we're still looking to clean things up," Hedrick said. "Hunter Chase gave us hope at the running back position, and we look to have Agard and Goodrich contribute more in the future. The passing game showed first-game tendencies with inconsistency throughout the protection, catching and throwing."
The Panthers host Mountain View Friday at 7 p.m. Mountain View defeated South Albany 28-7 in its season-opener.
"I know Mountain View is big up front," Mendazona said. "We're going to have to work hard and see what we can do to exploit their weaknesses."
Central came out and dominated Bend on Friday night, but with a new challenge looming, Abraham said the Panthers are ready to tackle the next opponent.
"We could have done a lot better tonight, but to come out strong like this, it's good," Abraham said. "We're going to come out strong, study in the film room, and see what they got and start from there."
Notes: Abraham was named team MVP after Friday's game. Offensive player of the game was Hunter Chase; defense was Xander Bailey and special teams was Omar Parroquin.