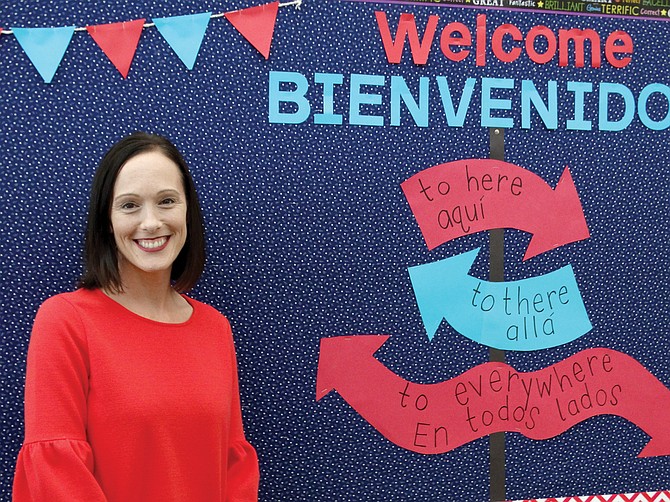 MONMOUTH — Ashley Wildfang has always known she wanted to be a teacher. It wasn't until she began mentoring them that she realized she wanted to have a bigger impact.
"Being a teacher, I think, is the hardest job ever, truly, and it's so important," said Wildfang, the new principal at Ash Creek Elementary School. "Stepping outside the classroom to get a different view of what's going on made me feel really passionate about looking at things from a different perspective."
Wildfang has fond memories of her third- and fifth-grade teacher, who made students feel loved and kept them engaged.
Fostering that engagement and love for learning in others is what keeps Wildfang passionate about education.
"The best thing about teaching is when the kids want to be at school," she said. "When you build a relationship with kids and they believe in themselves — maybe it's when you can help them believe in themselves."
Wildfang said kids can accomplish whatever they put their minds to.
"So often, they feel like they can't do things, and they can," she said.
Wildfang has worked a variety of positions in different schools, and has collected children's books along the way.
Different books remind her of different students. A stuffed Pigeon, from the book series including, "Don't let the Pigeon drive the bus," sits on the bottom shelf of a bookcase in her office.
"I had a little boy last year who I adore," Wildfang said. "The only thing that got him to read were Pigeon books, so I bought a lot for my office, and then he started reading."
In her first post as principal, Wildfang said she is impressed with her staff and teachers.
"The teachers here are hard-working, wonderful people, and they put relationships first," she said.
Wildfang believes the more connected the school is with the community, the better for kids.
"If we can engage our community more, it would be amazing for kids," she said.
Volunteers and parents are always welcome.
"I want parents to connect and be here," she said. "I want them to reach out to teachers as things come up and feel like they have voices."
The families, students and community have already been welcoming, Wildfang said.
"I'm excited for the year," she said. "I love to see all the energy. The staff is so positive. The community's so positive. I'm thrilled about our superintendent. I'm just ready for kids to come. It's going to be a good year."