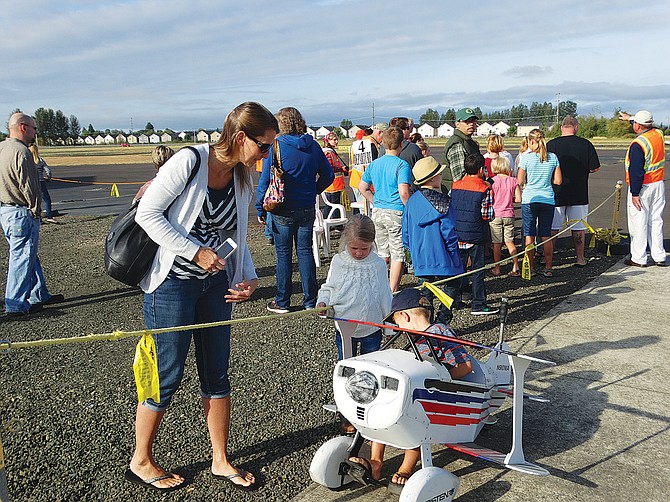 Human Equality forum Sunday
The Polk Community for Human Equality will hold an educational forum Sunday from 4:30 to 6 p.m. in the Hamersly Library at Western Oregon University, 345 Monmouth Ave. N., Monmouth.
The topic will be health care as a human right.
Dr. Bruce Thomson, a retired family physician who was in private practice in Corvallis for 20 years, will be the guest lecturer.
Thomson will discuss examples of public and private health care systems in other countries, the basis of the right for everyone having access to the health care they need and more.
There is no cost to attend.
For more information: Carol McKiel, 574-520-9245.
Women's Bible studies begin
The Mid-Valley Women of Christ women's Bible studies begin Monday.
Six classes of the "Finding I Am," a study of the seven I Am statements of Jesus in the Gospel of John, will be hosted by four Polk County churches.
The video study features teachings by New York Times Bestselling author Lysa Terkeurst.
Polk County classes will be held at Dallas Evangelical Church, 783 SW Church St., Dallas, Tuesdays from 6 to 8 p.m.; Dallas Foursquare Church, 976 SW Hayter St., Dallas, on Tuesdays from 6 to 8 p.m. and Fridays from 9:30 to 11:30 a.m.; Valley Life Center, 1795 SE Miller Ave., Dallas, on Wednesdays from 6:30 to 8 p.m.; and Praise Assembly, 189 Monmouth Ave. S., Monmouth, on Mondays from 6:30 to 8 p.m. and Wednesdays from 10 a.m. to noon.
Gardening festival set for Saturday
The 15th annual Fall Fling — a gardening festival and vendor fair, will return Saturday from 9 a.m. to 4 p.m. at the Col. Nesmith Readiness Center, 12830 Westview Drive, Dallas.
Cost is $30 in advance and $40 at the door. Lunch is included.
Speakers include Karen Chapman, landscape designer, Alec Kowaleski, Oregon State University turf grass specialist, and Andony Melathopoulos, OSU pollinator health extension specialist.
There will also be educational events held in the afternoon. Prices will range from $10 to $25 depending on the event.
To register online: www.extension.oregonstate.edu/polk/2017-fall-fling.
For more information: 503-623-8395.
Alzheimer's class offered Tuesday
The Alzheimer's Association, with the help of elder law attorney Rebecca Kueny and financial counselor James Hutches, will present a class on legal and financial planning for Alzheimer's on Tuesday from 1 to 3:30 p.m. at Salem Health West Valley, 525 SE Washington St., Dallas.
The workshop will go over various legal and financial uses to consider and how to put plans into place.
There is no cost to attend.
To register: 1-800-272-3900.
Gate Youth to hold Central tailgate
The Gate Youth Association will hold a pulled pork tailgater ahead of Central's home football game against Glencoe on Friday.
The tailgate will run from 6 to 7 p.m. at Panther Stadium before kickoff.
Pulled pork sandwiches, chips and drink will be available for $2.
All proceeds will benefit Gate sponsored activities for kids in Monmouth and Independence.
First Baptist to host youth program
Independence First Baptist Church, 1505 Monmouth St., Independence, will host Awana, a faith-based youth program, beginning Wednesday (today) at 7 p.m.
The program will run through the end of April and is open to students in kindergarten through sixth grade.
There is no cost to attend.
Primitive tools program Saturday
The Polk County Museum, 560 S. Pacific Highway W., Rickreall, will host a program on primitive technology, flint knapping on Saturday from 1:30 to 3:30 p.m. Don Day will speak.
Day will speak about traditional uses and technologies behind the creation of primitive tools of Oregon's indigenous people. He will also demonstrate knapping techniques used in his own creations.
Friends of Feline fundraiser coming
The Salem Friends of Felines will hold its 12th annual fundraising auction Sept. 23 from 5 to 8 p.m. at Oregon State Fairgrounds (Cascade Hall), 2330 17th St. NE, Salem.
The fundraiser is open to those ages 21 and older.
Tickets cost $40 and includes appetizers and beverages.
All proceeds benefit the cats in the community and helps cover medical care for sick and injured cats.
Tickets can be purchased online at www.sfof.org or at the thrift store/adoption center at 980 Commercial St. SE, Salem.
Salem Friends of Felines is a nonprofit and no-kill cat rescue group helping humans and felines in Marion and Polk counties. Last year, the group helped place more than 1,300 cats into homes.
Registration open for watershed series
Registration is now open for the first workshop in a series presented by the Luckiamute Watershed Council.
The two-hour workshop, "Love Your Watershed Series: Permeable Pavers," will be held Sept. 23 from noon to 2 p.m. at 10095 Rickreall Road, Rickreall. The workshop will cover advantages of replacing pavement with pavers that slow and filter water runoff from driveways and other surfaces.
Space is limited, and registration is due by Friday. Cost is $10.
To register: www.luckiamutelwc.org/permeable-pavement-workshop.html.
For more information: 503-837-0237 or email info@LuckiamuteLWC.com.