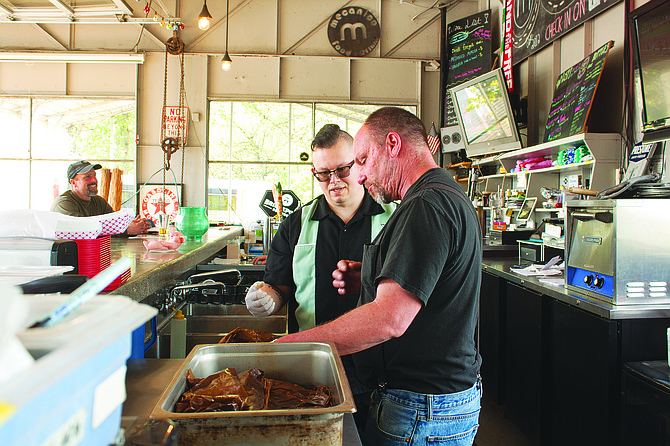 INDEPENDENCE — The property at 87 N. Main St., Independence has had a number of businesses on its soil over the years: a one-pump gas station, an auto shop and, most recently, a pub and barbecue.
The idea of what Mecanico would become was first conceived by Salem native Matthew Lind in 2007. Though boarded up, Lind saw the potential for a chic, modern bar that would mirror the trends that are drawing in countless patrons in Portland.
After purchasing the land from the city in 2008, there was a lot of work to be done.
First, there was the issue of the environmental concerns of an old gas station, but after removing the underground storage tanks, the Oregon Department of Environmental Quality issued a "No Further Action" letter, declaring the site satisfactory in 2009. Second, the sale didn't fully close until 2010.
It would be two years before a grand opening was set for Mecanico — a grand opening that didn't happen.
Mecanico operated only seasonally and for special occasions for years before becoming a year-round business in 2013. According to Lind, between the environmental issues, getting the business up and running, and the economic turmoil of the late 2000s, it was hard for him to keep up on his monthly payments.
In 2015, Lind approached the council and asked for an extension. After a couple of months of negotiations, the two parties came to an agreement of a two-year extension. In Lind's final offer, which was accepted by the council, he stated, "We can all agree now that there will not be another request for extension, and this way there will be nothing left with any uncertainty moving forward."
But that extension ends on Sept. 20, and Lind hasn't been able to fulfill the 2015 contract.
Business has continued to pick up over the last two years — most notably, after the arrival of barbecue enthusiast Ray Walter and IndePit at Mecanico in 2016 — but the business has just now hit its stride and there hasn't been enough time to accrue that amount, explained Lind.
"I'm 40 years old, I've spent a quarter of my life pouring my heart and soul into this place," Lind said in an interview in August. "And I haven't made any money off this venture yet."
On May 23, Lind presented a proposal to the council. Still owing $185,000 to the city, he asked for a two-year extension and offered to put down $25,000 upfront before Sept. 20.
Lind explained that he hasn't been able to find an outside lender to pay the city and shift the debt because of the high loan-to-value ratio and the potential environmental concerns. Lind said that, though the city was satisfied with the DEQ's letter, commercial lenders were not.
"The history of the property as an old gas station presents challenges and red flags to any new lender and requires phase one and two environmental testing which is very expensive and only exacerbates the economic challenges of conventional and/or private lending," Lind said.
Just before he left the podium, councilwoman Marilyn Morton asked Lind if he would consider a one-year extension deal.
"Absolutely," responded Lind. "You guys have been so patient with me, and I know I don't want to keep coming back and asking for more. I really think that this, the math that I'm doing, shows that we can do it — two years really makes it work, but if a year is the best you can, yes."
On June 7, Lind met with City Manager David Clyne and city staff to discuss his offer.
At the next city council meeting, on June 13, Clyne submitted his recommendation against accepting Lind's offer. In his recommendation, Clyne stated, "(the city staff) are strongly recommending denial of the request. Mr. Lind should be asked to surrender the building with a deed in lieu of foreclosure."
Clyne also said that he had consulted with the city's Realtor of Record, Alex Rhoten of Coldwell Bankers, and included that Rhoten "was very confident that there would be no problem finding cash purchasers at the remaining principal balance."
The same day, the council held an executive session "to consult with the city's real property negotiator." The meeting's minutes report that there was no action taken after the session.
On July 25, Lind returned to the council to present the same deal, with one change — the lump sum being offered upfront was upped to $50,000. Martha Lind, Matthew's mother, then took the podium to advocate for Matthew.
"I have observed over the last nine-plus years just how hard my son has worked on this enterprise of Mecanico," Martha said. "He has not only put money, but he has put hours and hours of sweat equity into this business. … He has repurposed an existing building that has sentimental, nostalgic effects for a lot of people, and it provides the unique venue — it's loved by locals and out-of-towners, alike."
Though John Bodnovitz had not come to the city council meeting to speak about Mecanico, upon hearing the Linds' statements, he took the podium to speak in favor of the council accepting Lind's offer, saying "if he can come up with $50,000, that's more than Minet has ever done. If we can help a small business owner out, I'm all for it."
The council asked no questions and offered no response to the request.
Having heard nothing from the council, Lind returned on Aug. 8 and requested to be added to the agenda as an action item. In his speech, Lind shared that another obstacle to him obtaining a loan for Mecanico was that he had become unemployed in 2016, making him a less desirable candidate for a loan.
After three minutes — the time limit for public comments — Mayor John McArdle notified Lind that his allotted time had expired. Lind continued speaking. The mayor reminded him twice more that his time had expired before breaking to say that Lind was welcome to speak further with Independence's financial director, Gloria Butsch, or the city's legal counsel, but "the council has already dealt with this matter, (they) will not be putting it on the agenda and (Mr. Lind) is welcome to fulfill (his) contract."
Upon hearing this, Lind continued to speak, and spoke over McArdle when he attempted to speak. After two more warnings, McArdle began to move on to the mayor's report, only to be interrupted by Lind again.
"So, after working in the community this long and delivering, this is the end? How does this make sense?" Lind asked, raising his voice. "I honestly don't understand."
After two more warnings and being ruled out of order, Lind was escorted from the room by two officers per McArdle's request.
That seemed to be the end of the road — but it wasn't.
Lind submitted one last proposal, this time outside of a city council meeting: a six-month extension with $100,000 upfront.
On Aug. 29, the council held an executive session "for the purpose of negotiating real property transactions." Once again, no action was taken after the session, but Lind was notified soon thereafter that the council would be voting on whether to accept the proposal on Tuesday.
Lind returned to the city council on Tuesday with an offer which was slightly altered from the one he had negotiated with the city staff: the same principle amount down, but with one year to pay of the remainder rather than six months.
After their executive session, councilor Michael Hicks made the motion to accept Lind's offer. The motion was seconded by councilor Tom Takacs. After Mayor John McArdle called for discussion on the matter, councilor Ken Day advocated against voting on the extension, and councilor Marilyn Morton spoke in favor of the extension.
The motion passed, 5-1.
A second motion was made, an addendum to the agreement which would give City Manager David Clyne the authority to immediately begin foreclosure proceedings should Lind default on his loan.
The motion passed unanimously with no discussion.
After paying the city $100,000 on Sept. 20, Mecanico will remain open with Lind responsible for paying the city the remaining $86,000 owed by Sept. 20, 2018.
Independence City Council meetings are video recorded and posted on the City of Independence's YouTube channel within a week of the meeting.