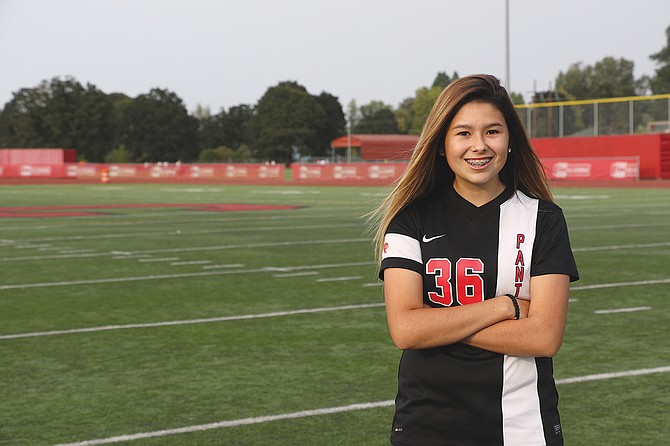 INDEPENDENCE — Soccer in the Rincon family is almost a rite of passage.
Central sophomore Ysabella Rincon's three older brothers played the sport — and being the only girl in the family wasn't going to get her off the hook.
"I think they expected me to play," she said with a smile. "Soccer's not just a game for me. It's a passion."
As a freshman in 2016, Rincon played on junior varsity, but Panthers coach Veronica Lepe offered her some advice.
"I encouraged her to play indoor soccer," Lepe said. "Since indoor is faster paced and it's more one-on-one, I knew it would help her with her first touch, consistency with passes and her accuracy when taking shots. I also encouraged her to work on her touch all throughout the year."
Lepe saw Rincon's potential — and Rincon is beginning to deliver on that potential as a sophomore.
Rincon recorded a hat trick during the team's 5-2 win over North Salem on Aug. 31.
"Honestly, I was just thinking about helping the team," Rincon said. "In soccer, you can't think about whatever you've done. You have to approach each moment like it's 0-0."
Once the match was over, Rincon said her accomplishment finally set in — though she's quick to credit her teammates.
"It felt good," she said. "It's not something that happens every game. I was glad to get to experience it on varsity. Our passing was really good. They made getting the hat trick pretty easy."
Rincon, a forward, has speed, decisiveness and an ability to make plays that has made her an integral part of the Panthers' attack.
"Her footwork and just overall dedication to soccer has increased drastically," Lepe said. "... Her speed is great, and I needed someone that complemented my other forward. She has grown as a player and as a person."
Rincon is now one of the Panthers' most dangerous weapons on the field.
"You can't let anybody knock you down," Rincon said. "You have to keep working hard because there is always someone out there better than you."
That hard work has extended to the entire team.
Lepe said players like Sophia Henke, Cristy Leon and Mariah Hyre have all shown improvement.
"I have seen great chemistry, communication and growth from each individual player," Lepe said.
Many of the girls on Central's roster have played together for years through youth soccer leagues. But something about this year is different that has each excited about their potential.
"Our passing is the best it's ever been," Rincon said. "It's never been to the point where it's a natural habit. Honestly, it felt at North Salem like we were at practice like we weren't being watched by anybody."
The Panthers play at Cascade Thursday at 4 p.m. before hosting Madison Tuesday at 6 p.m.
As Central makes its way toward the start of Mid-Willamette Conference play, the Panthers are excited to see what they can accomplish, and Rincon is ready to do whatever is needed to help her team.
"Even if we do take a loss, we have to keep going," Rincon said. "We have to put the past behind us and keep moving forward."