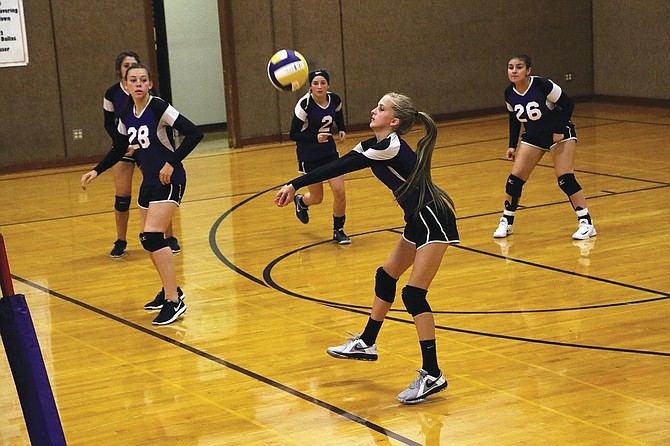 FALLS CITY — Falls City volleyball coach Roxy Barnhart hasn't always been sure what team she would see on the court.
"We've kind of been slow to start," Barnhart said. "We've been a little unpredictable on the court whether we're going to show up."
She's hoping the Mountaineers' 25-16, 25-8, 25-15 win over Livingstone Adventist on Sept. 6 kickstarts the girls.
"I think they found their groove and now they're rolling," Barnhart said.
The team has worked on communicating with each other and is getting used to new leaders stepping up, Barnhart said.
The Mountaineers have seen several players emerging on the court so far this fall.
"Anna Lammers was a huge leader last year, and once she graduated that left a hole," Barnhart said. "But Jamie Shaw and Maddy Hendrickson are on fire. Amara Houghtaling is always dependable. Cassidy Simmons is a sophomore, and has grown by leaps and bounds. She has a very timid, quiet personality, but she's gotten more confident in calling the ball and going after it when it's hers."
The key is finding that confidence in all the players each match.
The Mountaineers lost to Crosshill Christian 25-7, 25-10, 25-10 on Friday. It was a lopsided loss score-wise, but Barnhart said her players have the tools necessary to compete — it's about confidence in themselves.
"It's all about their mindset," Barnhart said. "It's not about their physical ability. They have all the physical skills. I would like to see them get a little grittier on the court. We have this mindset where we elevate our play against teams they feel confident against, but falter with teams they don't feel as confident about. It's about getting mentally tougher."
Falls City plays at Willamette Valley Christian Thursday at 6 p.m. and at Southwest Christian Tuesday at 6 p.m. The Mountaineers host C.S. Lewis Sept. 20 at 6 p.m.