MONMOUTH — Western Oregon University's volleyball team went 2-2 at the Division II West Region Showcase on Thursday, Friday and Saturday.
The Wolves (4-3 overall) opened the tournament with a 25-12, 25-21, 25-23 win over Cal State San Marcos on Thursday. Alisha Bettinson had a match-high 17 kills.
Mackenzie Bowen recorded a team-high 13 digs.
WOU lost to Chaminade 18-25, 25-18, 27-25, 26-24 on Friday.
Western Oregon opened Saturday with a 16-25, 25-22, 18-25, 25-21, 15-3 victory over Fresno Pacific on Saturday before falling to Cal State East Bay 18-25, 32-34, 25-15, 25-18, 15-9.
Bettinson was named to the all-tournament team after recording 66 kills and 47 digs during the weekend.
The Wolves open Great Northwest Athletic Conference play on the road, traveling to Saint Martin's on Thursday and Seattle Pacific on Saturday.
MEN'S CROSS-COUNTRY PLACES THIRD AT HOME MEET: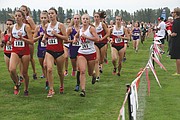 Western Oregon's men's cross-country team finished third at the Ash Creek Invitational on Friday afternoon.
The Wolves finished behind Simon Fraser and Alaska Anchorage in the team standings. Thomas Normandeau led the Wolves with a 10th-place finish, completing the 6.2-kilometer course with a time of 19 minutes, 18.5 seconds. Alan Ekanger placed 16th in 19:25.1.
The women's squad finished ninth in the team standings.
Cassie McKinney led the Wolves with a 33rd-place finish. McKinney completed the 4.6-kilometer race in 17:52.3. Felicia Covey took 46th in 18:19.9.
Western Oregon is off until Sept. 23, when the Wolves will compete at the San Francisco State Invitational.
WOMEN'S SOCCER SPLITS MATCHES: Western Oregon's women's soccer team picked up its first win of the season, defeating Chaminade 2-0 on Sunday.
Alyssa Tomasini scored both goals for the Wolves — breaking a 0-0 tie in the 63rd minute.
WOU (1-3 overall) lost to Hawaii Pacific 3-1 on Friday. Kaili Brundage gave the Wolves a 1-0 lead in the 11th minute, but Hawaii Pacific scored three goals in 10 minutes in the second half to earn the victory.
Western Oregon opens GNAC play at top-ranked Western Washington Saturday at 4 p.m.
FOOTBALL RALLY FALLS SHORT: Western Oregon (0-2 overall, 0-1 GNAC) put together a late rally, but the Wolves lost to Central Washington 30-23 on Saturday afternoon.
The Wildcats built a 30-10 lead in the fourth quarter before the Wolves pulled close.
Linebacker Bo Highburger recovered a fumble and returned it 79 yards for a touchdown with five minutes to play.
A 57-yard touchdown pass from quarterback Nick Duckworth to Torreahno Sweet brought the Wolves to within one possession with 1:27 to play. Central Washington recovered the onside kick to preserve the victory.

Duckworth finished the game with 284 yards and two touchdowns.
Receiver Paul Revis had 12 catches for 114 yards.
Western Oregon will play at Western New Mexico Saturday at 11 a.m.
The Wolves' home-opener will be Sept. 23 at 1 p.m. against Humboldt State.